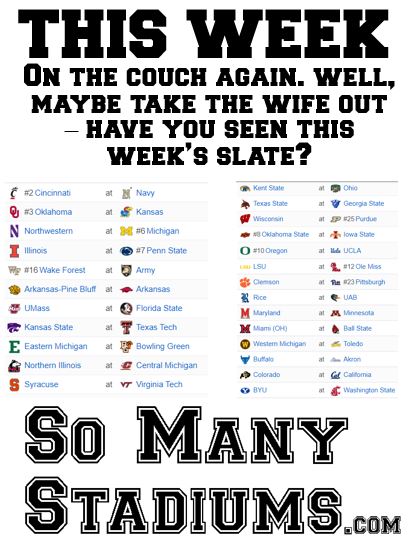 Yeah, let's be honest. Week Eight doesn't have the most intriguing slate of games. It may be the right time to refill the bank with the boss, if you know what I mean. It is fairly likely that I won't be watching all day this Saturday. I will just check for winners on my phone. Did I mention that I went 3-1 last week? I don't know if I am taking my picks more seriously or I am just luckier this year. In any case, it was another productive week. Only Arkansas let me down. In hindsight, their 4-0 start was a bit fraudulent. I should have known. UTEP took care of business. Texas A&M had their game in hand very early. Lastly La Monroe held up the state's high standards by beating Liberty outright despite being a 32.5 point underdog. I have seen a lot of game in Louisiana – they have great athletes.
Some other notes from last week:
Beating Florida could not save LSU Coach Ed Orgeron's job.
UConn not only won a game, it was televised.
Even though they beat Texas in a comeback, I am not sure I believe in Ok State. Feels like Gundy is the coach that always has a good team, but one that's never good enough to win it all.
South Carolina stole that game from Vanderbilt
Late in the afternoon, I switched to Central Michigan vs Toledo. My reward? OT!
Don't want to jinx my late season trip, but UTEP vs. UTSA is looking good.
This week's picks coming soon.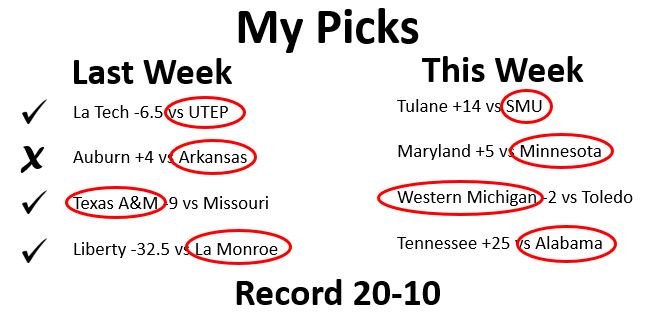 I love the favorites this week. Correction, I like the favorites this week. I am going to ride SMU until they lose. They should certainly be able to beat a struggling 1-5 Tulane. Maryland may have the same record as Minnesota, but I think there's a big difference in the level of competition. This is my least favorite pick of the bunch so tread lightly with your wagering. Western Michigan just scores points. I was very confident of this pick until I saw that WMU lost to Ball State, whom Toledo beat. So, this game is essentially a pick 'em. For my last pick, it is 'Bama, as in "Roll Damn Tide." I think Tennessee is in trouble in this one. Some other observations on a fairly pedestrian college football weekend:
Wake Forest is quietly 6-0. Army should be a pretty good test for the Demon Deacons.
Oklahoma State gets no respect. Undefeated underdogs at 4-2 Iowa State.
Game day is going to SoCal for Oregon versus UCLA. Hard to fault that pick this week. It may be the best game of the weekend, if not the best teams.
Clemson aren't what they normally are, but it is still a big game for Pitt.
San Diego State is another undefeated team that will be tested this weekend, taking on a 6-1 Air Force.
The game to avoid. UMass at Florida State. Ugh that's some bad football.
That's all I got.
Tree