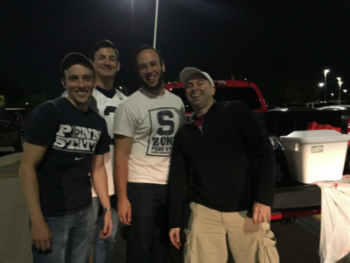 When I started this journey to hit all FBS stadiums, it was a bet. It wasn't even my idea. It was a couple of old lunch time buddies who included me, even though I had already moved to another office halfway across the country. It was a race between two teams of two guys to see who could get to them all first. It didn't take long for the other team to basically give up. However, I was having so much fun, I figured I might as well make a run to hit them all myself.
That was about ten years ago and since then, I have learned that I am not alone. First, there was Pat Yarber, who I saw on an ESPN segment way back in 2013. He was just about to finish visiting all the stadiums which was 125 at the time. It was bittersweet as the poor guy had gone legally blind in the process. Kudos to him for finishing it up despite that challenge.
Since then, I would come across folks that were doing similar type things like hitting all the MLB stadiums, which was pretty common. There were others though. Like my colleague Jimmie James who hit all of Golf Digest's top 100 courses in a year or another friend of mine who was hitting all the national parks. As I visit stadiums, it wouldn't be uncommon to meet folks that were trying to get to all of a certain conference, often times following their local team. I met my buddy and Penn State alum Drew at the PSU vs Illinois game a few years back as he was working on his list. And occasionally, I would be at the second half of a double header weekend and see someone from an earlier game that weekend. As an example, I saw two guys at the USC game noon game, then on the metro over to Pasadena for UCLA game that night, then at a restaurant, and finally in the stands at the Rose Bowl.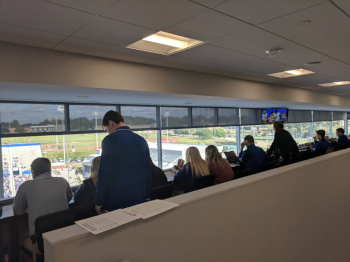 This year, however, any thoughts of me being unique on this quest were completely eliminated. First, at another double header weekend, a guy game over to our tailgate at UTEP wearing the same shirt as me. He looked at my banner listing my teams and he said he had just come from New Mexico State. He was doing the same thing (and apparently collecting t-shirts like me) and his number was at 53. It made me feel pretty good that I was comfortably ahead of him at 94.  That confidence was short lived when multiple friends sent me articles on two other guys in the mix. One was done. Clark Humble hit all the stadiums in just over five years. To be fair he was retired, but I had to admit his effort was exceptional. I also found out about Frank Lipchick, who was very close to finishing up his quest. He was at 124 stadiums. As Frank is a Yinzer and I am a CMU grad, I felt compelled to get ahold of him.
It shouldn't be a surprise, but we had a lot in common, from how we scheduled games to the experiences we have had. Frank has been retired for some time, but he is also a Pitt fan. As is such, he is committed to going to every home Pitt game and had to work his games around that constraint. Frank told me that he should be able to get all his games in this year, including JMU who is jumping to the FBS a year earlier than planned. The other teams he has left are Wyoming, Texas Tech, Florida State, Georgia, San Diego State and North Texas. I actually have both Wyoming and Texas Tech on my schedule this year as well, but it doesn't look like we will be at the same games.
Frank told me that some times his wife joins him for the games and some times he is alone. He prefers to buy his tickets direct from the school, but has bought them from scalpers and online as well. And just like me, he's always happy to get hooked with the occasional free ticket. Some of his favorite games include Louisiana Tech, where he got to sit in the Press Box. Oddly enough, I, too, was able to sit in the press box at La Tech when I was there. I attribute this to the considerable kindness of Louisiana fans, and not perhaps a lack of qualified writers to fill the press box on any given Saturday. Some his other favorite game memories include attending the grand opening of Baylor's McLane Stadium and a raucous game at LSU where everything came together in mix of football and fandom. He, of course, has had the occasional dud like a cold and rainy game at Liberty. I can relate, having had my share wet and cold games, and near the Blue Ridge Mountains too. And like me, Frank doesn't just collect memories but also souvenirs, his being shot glasses. In the end, though, we both agree it is really about the memories.
See you in the cheap seats,
Tree