The Players:
Tree: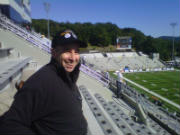 Profile: Married father of two and the old timer of the bunch. A nearly empty nester, he's been ramping it up the last couple of years.
Athletic Chops: Sat the bench for four years at then Div III Football power Mercyhurst College. With a graduate degree from Carnegie Mellon, he has no real allegiance to any BCS school or conference.
Strategy: East Coast and Great Lakes regions pretty much locked down, now it's on to the Heartland and deep South.
Shady: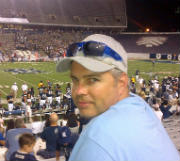 Profile: Married father of four kids under the age of 13.  Always searching for a good excuse to get away for the weekend and catch a good college football game.
Athletic Chops: A tremendous college football fan with slightly above average athletic ability. A fan of several teams but he, at least, has a good excuse as he was a season ticket holder at four different FBS schools: Air Force, Boise State, BYU (undergrad) and Oklahoma State (grad).
Strategy: Focusing on the South and West.
Momo:
Profile: Married father with more kids than I can count, he is finding that parental duties are getting in the way of going to games. He claims he has "a guy" who can get him great seats, but it never really seems to happen.
Athletic Chops: Played a couple of years at Montana State which makes him the most accomplished of this group. He went to grad school at UT but only seems to support the 'Horns when they are the favorites.
Pat:
Profile: Married with children, he claims to be a big fan but his numbers don't support it. Of course he spent a couple of years living in Europe and he fell way behind. He claims that he will be making a run now that he's back in the states.
Athletic Chops: Runs the odd 5k, etc, but to be truthful, his wife is the real jock of the family. Pat's just picking up the scraps.