Last week's games were pretty good, but it is clear that College Football is better with the BIG 10 and PAC 12 than without. Thankfully, there's only one week to go until the BIG 10 season kicks off. It is hard to believe the PAC 12 doesn't kick off until November 7. From the polls to the playoffs, this whole season should just carry a big asterisk. Look, this season is a welcome diversion but it is hard to consider it a valid one. The inconsistency in schedules and the high number of cancellations make it even more difficult to assess who the best teams are. It doesn't make the eventual national championship meaningless, just diminished. With that, some random thoughts on last week games before I weigh in on this week's slate.
Last week's games:
I still don't know if the Aggies are for real, but upsetting Florida is a step in the right direction.

I find Gus Johnson hard to listen to. He is constantly shouting, often trying to make drama where there is none. He also has a tendency latch on to one theme throughout the game. For a minute during the OU Texas game, Johnson almost had me convinced Ehlinger could walk on water. Look, Ehlinger had an inspired game, but the fairy tale ending that Johnson was crafting was ruined when the QB threw a game ending pick. And for once, Johnson was speechless. 

VT – UNC game mildly entertaining. Not sure how good UNC's offense really is. Beating up 3rd string walk-on DBs isn't exactly impressive. I should known since I was one.

You have to wonder if Orgeron at LSU is distracted with personal issues. The Tigers don't look like themselves. Missouri beating LSU was certainly a surprise.
I have been keeping a close eye on the stands because I still hope to catch at least one game this year. In general, the adults have been social distancing but not the students. I wonder what that is going to look like in three weeks
Auburn got a gift on the fumble call on the clocking of the ball. Felipe Franks was something else for the Hogs. The Tigers were very lucky to win that game.

The rockhead move of the week was George Pickens from Georgia spraying water on the Tennessee QB on the sidelines. It wasn't malevolent but it was stupid. 

And no, Miami is not back. They are better, but Clemson still handled them.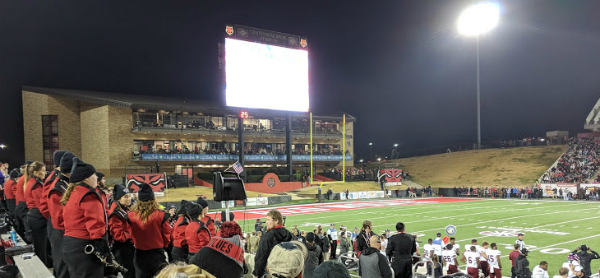 Week 7 Games
There's already been two great Sun Belt games. The locations of the schools may not always be easy to get to, but the teams are entertaining. Trust me, I have been to both Arkansas State (pre Waterfall) and Troy. Still, the Sun Belt is the Fun Belt.
Even with Saban out with Covid-19, Georgia at Alabama should still be a great game. Finally a prime time game worth its slot.
Don't complain LSU and Florida for having your game postponed. Houston plays BYU this weekend. It is their second game of the season.
The best game of the day may be Army at UTSA. If not for Covid, I would have strongly considered driving over to San Antonio to watch that game live.
Again, not the meatiest tray of games this weekend. Still, it is better than nothing.