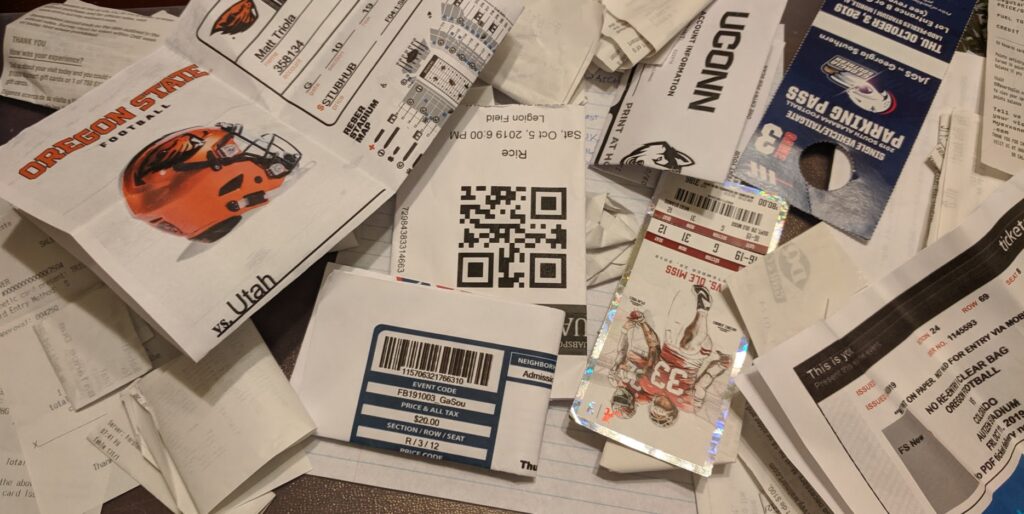 This week we are back at home, looking forward to seeing LSU host Alabama – on my couch, nice and cozy. It was a great time at Notre Dame last week, but it was cold. I am a little behind on my reviews, but here are my thoughts for last week:
I saw Ga Southern take 2OTs to beat South Alabama earlier this year. There is no way I can fathom how they beat App State – and it kept me from a perfect week. Maybe I should have noticed that they only lost to undefeated Minnesota by three points.
After Nebraska's loss to Purdue, they have to win two out of three against Wisconsin, Maryland, and Iowa. I don't see that happening. The season highlight for the Huskers? Game Day coming before the Ohio State slaughter.
Florida losing to Georgia ends their season. The remainder of their schedule, Vanderbilt, Missouri, and Florida State, gives them nothing to bolster their reputation.
Really thought Kansas would give K-State more trouble. Apparently not.
Did Clemson play this week? Oh yeah, they played Wofford – cupcake city. But, next few games could be trouble. NC State, Wake Forest, South Carolina
Memphis and SMU represented the AAC well on national TV.
Mac Brown has another rough weekend as UNC loses to Virginia by seven.
Oregon rolls against USC, but their remaining schedule won't help much. Even with SEC (Bama and LSU) and Big Ten (PSU and Ohio State) eliminating two of the top four, I think they are going to need help to get into the FBS playoff.
Escapes: Baylor by over WVU by three, ND over VT by one, Cincinnati over East Carolina by three.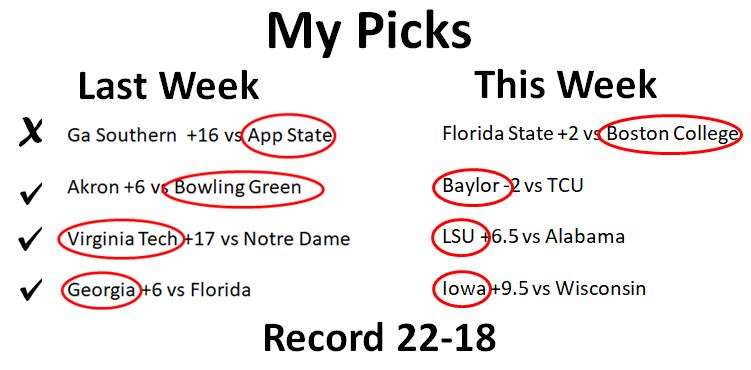 It was a good week for my picks. If not for the aforementioned App State lost, I would have gone a perfect four and oh. Alas I will have to settle for three and one. VT gave an inspired performance against ND, only to come up one point short but more than close enough given the 17 points they were getting. Georgia won outright and Bowling Green easily covered to give me a nice weekend. This week I like Boston College to easily handle a dying FSU and Iowa to keep it within 9.5 points against Wisconsin. Baylor should beat TCU by more than two. Lastly, I like LSU even if the game is in Tuscaloosa.
Thoughts on this week's game:
What has happened to Army since they lost to Michigan 24 -21? They are now three and six with losses to Georgia State and San Jose State. Ouch. At least UMass is coming to town this weekend. That ought to be a win. Imagine if Michigan had lost to Army. I don't think you'd see two Big 10 teams in the top four FBS rankings.
Ugh: South Alabama (1-7) vs Texas State (2-6) – I may have seen the best performance of South Alabama this year when they lost to Georgia Southern in OT.
Answer Games: Kansas State (6-2) at Texas (5-3) and Wake Forest (7-1) at Virginia Tech (5-3). See if the Power Cats and Demon Deacons are for real
I can't believe Illinois is 5-4. Lovie Smith has righted the ship and that is saying something after they nearly lost to UConn. They should beat MSU.
Ole Miss has New Mexico State (0-8) this week. I bet they wished that was every weekend.
For some reason, I can see App State having a bounce back game against South Carolina
San Jose State versus Hawaii will probably be a good game. Too bad nobody will stay up to see it.
That's all I got. Enjoy the games.