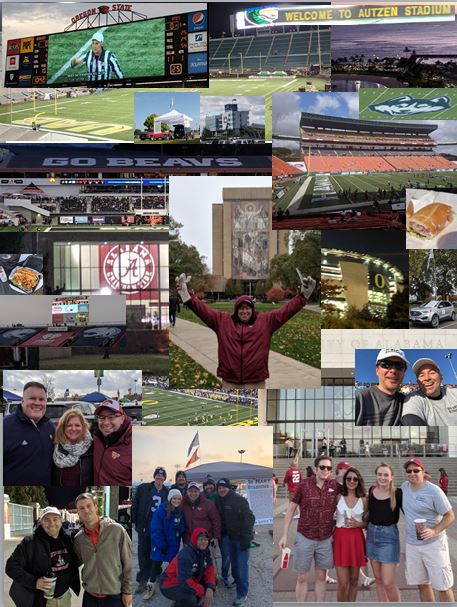 2019 is in the books. It was a good year despite some personal challenges. I hit eight stadiums with a couple doubles helping to smooth out the schedule. I had originally planed to hit ten, even possibly eleven games. Not unlike other seasons, by the time November came around I was running out of gas. Accordingly, I cancelled the last trip of the year to Chicago. It did not take much to convince me not to go. I mean Wisconsin in November is not exactly a big draw, walleye and cheese curds notwithstanding.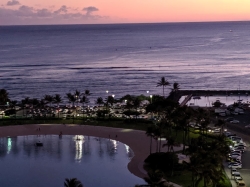 With Hawaii being one of the two opening games of the season, I convinced my wife this was the year for an island vacation. We were off to Hawaii for a week where she grudgingly agreed to go to the Arizona v. Hawaii game. Little did she know it would turn out to be one of the highlights of week. It was a 45 – 38 win for the Rainbow Warriors that came right down to the wire. It was one of the best games I have seen live. The good times continued up until a stringy haired surfer dude busted the window of our rental car in search of my wallet. Mahalo brah?!?
A couple weeks later, it was the Illinois – UConn game for Labor Day weekend. It was a sloppy game but it was still very entertaining. I was visiting my great friend Bob so I knew I was going to have good time regardless of the game. However, the UConn experience was just about right. The only downer of the weekend was a dismal experience at Gillette Stadium where the Steelers suffered a beating at the hands of the Patriots. I take solace in the fact that it was probably the highlight of the Patriots season. A loss in the Wildcard round? How do you like those apples?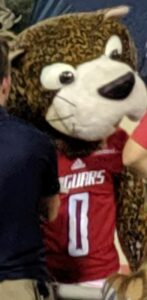 But, I digress. After a couple of weeks off, it was time to see the number two team in the country. Alabama was playing host to Ole Miss in what was sure to be a blowout. It was close for about a quarter before Alabama opened it up and started scoring at will. The only consolation was that we had great seats in the shade (thanks Morgan). With all the history at Alabama, a visit to Tuscaloosa should be on your list, but with lowered expectations. The hallowed SEC has more than its share of dogs. This, along with Saban's complaint that "no one will play us", means Bama's home schedule has more cupcakes than a 3rd grader's birthday party. Early the next morning, I left my car at the Atlanta airport and flew home. The following Thursday night, I flew back to Atlanta and then made the long drive down to Mobile to see the South Alabama Jaguars host the Georgia Southern Eagles. To say I was not excited about this match up would be an understatement. I was dreading this game. I could not get anyone to go with me and I was going to Mobile. To my surprise, I couldn't have been more wrong. The game was great, going two overtimes before Georgia Southern pulled out the win. And, Mobile had a great laid back vibe, almost like a chill New Orleans.
After such a great experience, I was looking forward to visiting UAB. The program had made great progress coming back from the dead. It was a feel good story I was looking forward to participating in. Instead, it was a debacle of epic proportions, from terrible tailgating, to weak play by the Blazers, finished by a soul crushing hour and half weather delay. I had had my fill of jorts and with my mandatory half of a game in the books, I was happy to put Birmingham in the rear view mirror.

After another break, it was time for a great northwest doubleheader. It was not my first time to Oregon, but it was my first time in the fall and I was impressed with the beauty of the state. I would say I had a good time everywhere but inside the stadiums I visited. It is always hard to blame the home team for a blowout win, but watching the Ducks run all over the Buffs (final score 45-3) got old after awhile. Of course, I did blame the Oregon State Beavers for laying an egg (final score 52-7) when the fifteenth ranked Utes came to town. But that weather – wow, what great fall scenery.
The year was wrapped up with a visit to South Bend to see the Hokies take on the Fighting Irish. Often held up as a must see destination for college football, Notre Dame did not disappoint. It was a weekend's worth of fun with nary a drunk frat boy killing the buzz. Had the Hokies not choked away their seventeen point underdog upset, it would have been a perfect weekend. It marked the fourth game this season that came down to the wire. I couldn't ask for much more.
And with that, here are the 2019 Stats:
Games and Teams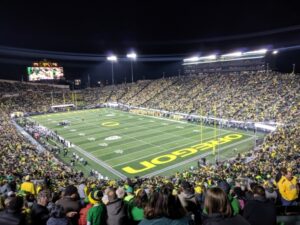 Total Games Attended: 8, up 2 from 2018
Best Team Seen: # 5, Oregon, far better then prior year's Michigan (#14).
Final AP Top Twenty-Five Teams Seen: 4 versus 3 in 2018 (Oregon, Alabama, Notre Dame, Utah)
Worst Team: 4 – 8 Ole Miss, (#5 in the Bottom 10). Also making the list: UConn and South Alabama. I continue to excel at seeing some of the worst teams in the country.
Best Game Seen: Notre Dame 21 (#20) – Virginia Tech 20, 9/2/18. – Maybe not an Instant classic, but close.
Worst Game Seen:  Utah 52 – Oregon State 7 – Absolute blowout.
Bowl Game Teams Seen: 8 ( and 4 won their bowls). It was much better than last year where only 2 won.
The Players
College Award winners seen: One, Outland Trophy (Best Interior Lineman): Penei Sewell, Oregon, one more than 2018.
All Americans: 11  A great year with plenty of help from Alabama.

The Stadiums (of 2019 visits)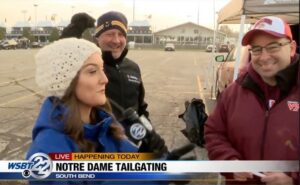 Best Stadium: Notre Dame Stadium, South Bend, Indiana. A must on any college football fan's bucket list.
Worst Stadium: Legion Field, UAB, Birmingham, AL. – Thank god they are building one on campus, because it was a dump with lousy customer service as well.
Best Game Day Experience: Notre Dame (but we had a suprisingly good time at UConn as well). Pricey for sure, but the tradition, ohh the tradition.
Easiest Stadium to Get To: Reser Stadium, Oregon State. Navigating Corvallis was easy and there are multiple tailgating options along the way.
Hardest Stadium to Get To: Aloha Stadium, Hawaii – I mean it isn't exactly a quick trip from anywhere.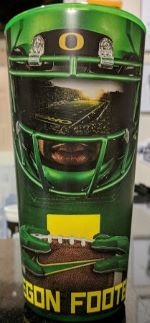 Best Concessions: Aloha Stadium, Hawaii. Plenty of variety from local vendors.
Worst Concessions: Ladd Peebles, South Alabama. No souvenir cup.
Best Souvenir: Oregon, A ton of free little flashlights
Worst Souvenir: UConn, $31 for a hat? I think not.
Best Cup: Oregon, but Notre Dame was not far behind
Worst Cup: UAB, but at least they had a cup. Shame on you Hawaii and South Alabama.
The Costs
Total Season Spend: $4,800 ($3,500 ex mileage) not including Hawaii which was really a vacation as well; Ave per Game: ~$600 (ex mileage ~$433) down nearly $100
Most Expensive Ticket: Colorado vs Oregon – $50 actual (Stubhub) with a $80 face
Cheapest Ticket: Alabama – Free!
Average Ticket Price Paid: $25 (up $8 over previous year)
Average Savings on Tickets over face: $14 saved per ticket
Miscellaneous
Miles Driven: ~2,300  vs prior year 2,400
Miles Flown: ~16,000 (Hawaii, Albany (to UConn), Atlanta, Oregon, Chicago)
Two Game Weeks: Two – South Alabama / UAB; Oregon / Oregon State
Best Fans: Oregon. The guys around me were a lot of fun.
Worst Fans: UAB, but to be fair, they weren't too bad.
Most Pleasant Surprise: South Alabama- Mobile was really pretty cool.
Most Unpleasant Surprise: UAB, I now have a new worst stadium.
2019 was also the year of AirBnb.