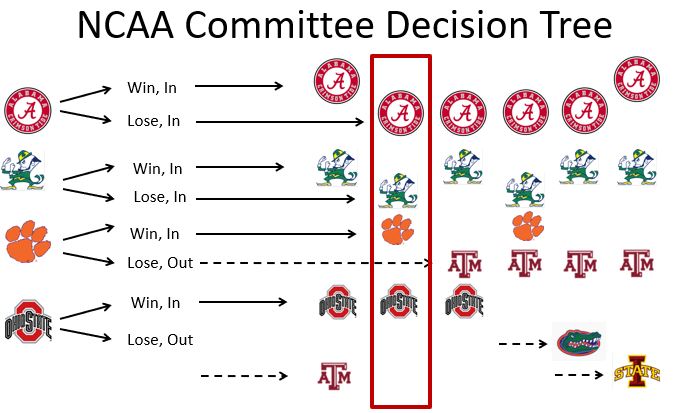 Sometimes, I hate being right. The playoff selection process is so laden with bias and status quo that here at Somanystadiums we were able to fully predict the playoff field with all the "championship games" yet to be played.
Some things we knew right off the bat:
Alabama was in, win or lose. Even if the Tide had lost by 35, they were in under the "We want the four best teams" sentiment. The premise is fine if you have an eight field team where you can give a Power Five team a break for the one-off loss. However, it makes conference championship games meaningless. Bama has looked great all year so they were automatically in, win or lose.
Notre Dame was in, win or lose. This is all about the national team / east coast bias for the Irish. They are a good team, and at times, a great team. I would have given this spot to Texas A&M.  But, I have seen A&M play a few times this year and their case is only a little bit stronger. We are talking feet, not yards if you are looking for a football analogy. Nonetheless, I'd rather see the Aggies than the Irish. I think ND is going to get crushed by the Tide. Having already played them once, I give A&M a better shot.
Clemson had to win to get in. I think everyone knows they are heads and shoulders better than ND, but they had to prove it. They don't get the old school, east-coast bias benefit that ND does today so a win was a must.
Ohio State was in the same boat, but only because they had played six games. To be fair, the Buckeyes have been winning with a lot of backups thanks to Covid-19 precautions. If Ohio State had rolled into the Big Ten championship 11-0, they would have gotten the east coast bias, beauty contest playoff bid. Of course, you could argue the Big Ten already gave them that gift when they changed the conference requirement rules. Like it or not, the Buckeyes did take care of business.
This left Texas A&M hoping for some upsets. None of which happened. Gig' em next year.
As Bruce Hornsby sings, "Did you really think about it before you made the rules?" This is not the way it should be. The playoffs should be an eight team field team with the following fully transparent rules.
1) Power Five conference winners get an automatic bid.
2) Undefeated Group of Five conference winners get an automatic bid.
3) Remaining slots filled by Selection Committee ranking.
With that in mind, this is what it should look like.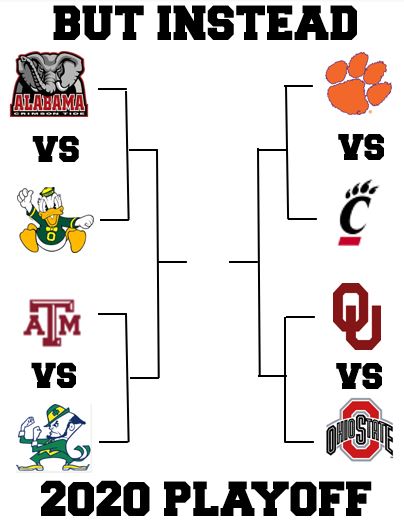 Bama is still the number one seed and they get the Oregon Ducks, as PAC 12 champions. I hate that the Ducks get in over say a Florida or Coastal Carolina, but by virtue of winning their conference, they are in. If Florida had beaten Texas A&M, they would have been in a much different spot. Plus, this season is different and giving a PAC 12 team a shot would be a lot more inclusive. The PAC 12 winner would not be nearly as problematic if the USC Trojans had taken care of business in the first place.
Notre Dame still gets in with an at-large bid and the four seed based on the selection committee ranking (thank you very much east coast bias). Texas A&M gets the other at-large bid and comes in at five. Honestly, isn't this the game you wanted to see anyway? It allows the arguments to be settled on the field instead of in a hotel conference room.
Clemson rightly gets the number two seed and would play the Bearcats of Cincinnati. The Bearcats are undefeated and won the American Athletic Conference. Congrats Group of Five, you wanted it, you got it.
Ohio State gets the third seed and will play Oklahoma, the Big 12 Champion. Is Florida better than Oklahoma? The selection committee didn't think so, having put the Sooners one spot ahead of the Gators.
The big losers in my eight game scenario are the following:
Florida. The Gators looked awfully good on offense against Bama. It feels like they could keep up with anyone in a shoot-out. Again though, when a team loses three games, it is hard to feel too badly for them.
Coastal Carolina. Let me be clear, had the Chanticleers beaten Louisiana (Lafayette) in the now cancelled Sunbelt Championship, they would have rightfully knocked out Texas A&M, only because the committee rated ND ahead of them. However, since this is a purely hypothetical bracket. I would suggest the Committee put A&M above Notre Dame. This way, you would get some great regional games that feel very much like first round playoffs.  Coastal would play Clemson, OU would take on Texas A&M, and Cincinnati would play the Buckeyes. Plus, college football fans get the added bonus of watching Irish fans go apoplectic and wail at the injustice of it all. My work here is done.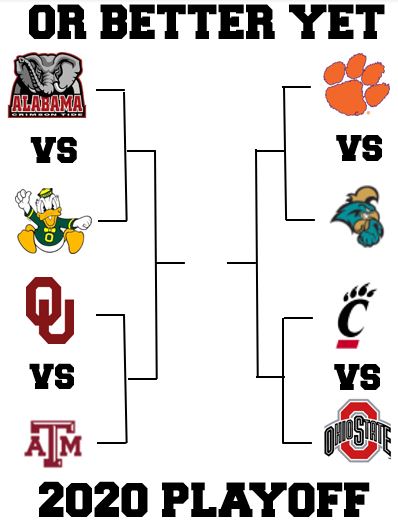 I am not alone in my assessment of the challenges facing the current system. You know there are problems when even the NCAA poster boys at ESPN's Game Day are bad mouthing the college playoff system. As an aside, it was not exactly a great year for Game Day. From the forced and tenuous connection between The Masters and college football to backdrops with no audiences, the show really never caught its stride this year. The Bear's Bank segments feel like they have run their course. When your picks are hitting only half the time, it's the equivalent of a Christmas Club savings account – a feel good endeavor at best, and wasting away money at the worst.
But it wasn't just ESPN that struggled. Some of the weekends, let alone games, were unwatchable this year. I am not sure that is the fault of anyone, it was just the way Covid-19 impacted the season. Thankfully, the precautions, by and large, kept most everyone safe. Sadly, though, there were some outliers. With that in mind, please celebrate the holidays with as much care and responsibility as possible. Let's make 2021 a better year in every sense of the word.
Tree
That kid, Sermon,  from Ohio State is a beast