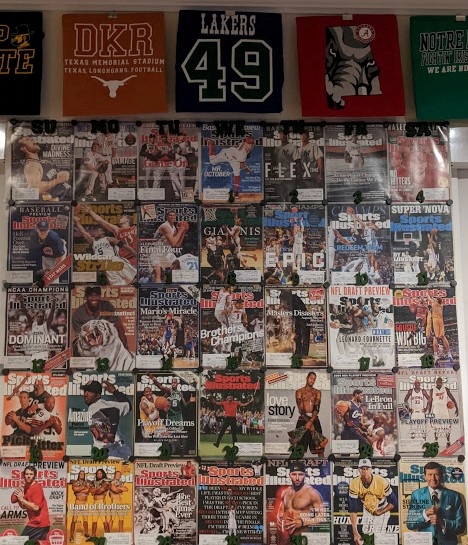 It is April and while I have came out of my annual hibernation, it still feels like I am in a cave. The Coronavirus Pandemic has turned the whole world on its ear. I am thankful for all the healthcare professionals and first responders that are taking on this deadly virus. Meanwhile, I am shuffling along in my home office counting the days to when the curve is flattened and life can start to get back to normal. After all, even working in your pajamas gets old after a while.
I have already identified a number of stadiums for the fall tour, but everything is on hold for now. To add insult to injury, Sports Illustrated has finally made the switch from a weekly periodical to a monthly one. The man cave wall calendar is probably going to feel a bit repetitive in a few years. I need a strategy to find pre-1992 SI magazine covers to fill out my collection. Do they advertise library closings? Surprisingly, I still have about 15 – 20 covers per month that have never been on the wall. There is going to be at least one more year with new looks. Below are some of my favorites for this April.
The Washington Nationals finally got over the hump in 2019. Even though I am a Pirates fan, I give credit when credit is due. This year there will be a lot of Nats covers on the wall. Two observation with these covers. One, Washington has been good for a long time. The Harper cover was from 2015 and the Strasburg cover was from 2013. Winning championships is hard. This brings me to my second observation. Whatever Harper got out of the deal with the Phillies, was it worth not getting a ring?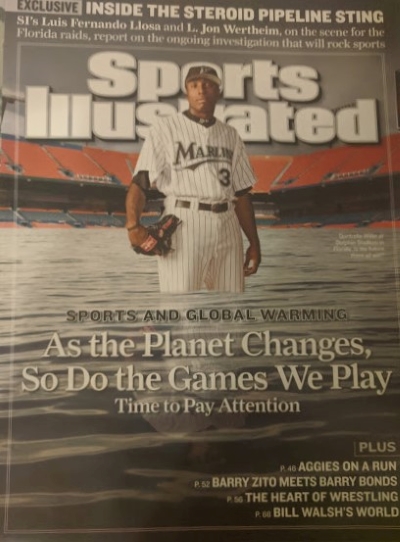 The cover story strikes me as particularly relevant. It might be a stretch to say Covid-19 came from climate change. Some might say a Chinese lab is more likely. I will leave that investigation to the conspiracy nuts. However, there have been a number of studies that indicate as the earth warms the likelihood of super bugs grows.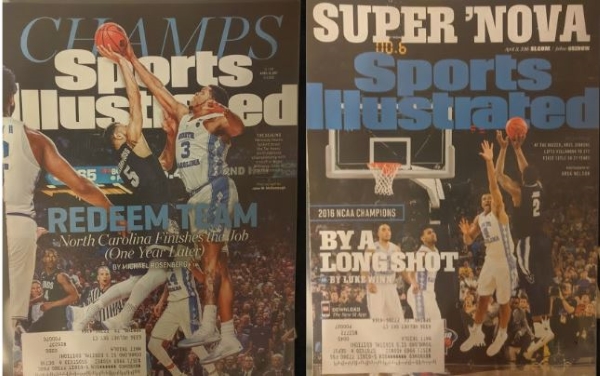 As you might expect, April has a plethora of college basketball covers. These two have special meaning to me because I was actually at the Villanova game. The final minute of that game was as good as sports get. It was back to back clutch shots that I will never forget. The UNC fans I was sitting with were just crushed when the Wildcats sank the winner. I was glad to see them get their championship the next year. While not as significant as the loss of life, both players and fans have lost that thrill of victory for winter and spring sports this year. Covid-19 gets another set of victims.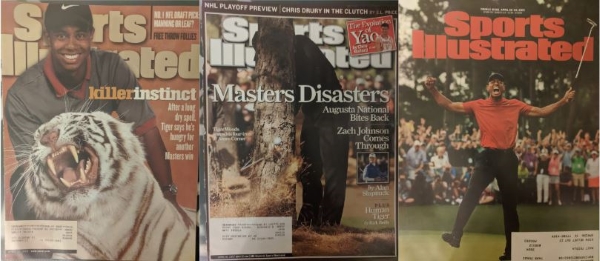 I can't deny it. I, too, got wrapped up in the Netflix "Tiger King" series. It was the first thing I thought of when I saw the cover of the Tiger Woods with a real tiger. I wouldn't be surprised if Doc Antle had supplied that tiger for the photo op. There will be no Masters this year, so for the time being the Tiger King is the only tiger to watch.
There is one sports related activity that is still going on, and that's the NFL draft. I can't say whether Leonard Fournette was a good or bad pick at number four in 2017. Only time will answer that question. I like that cover because I fondly remember seeing him play as a LSU Tiger against Auburn. Suffice it to say, he was a man-eater in that game.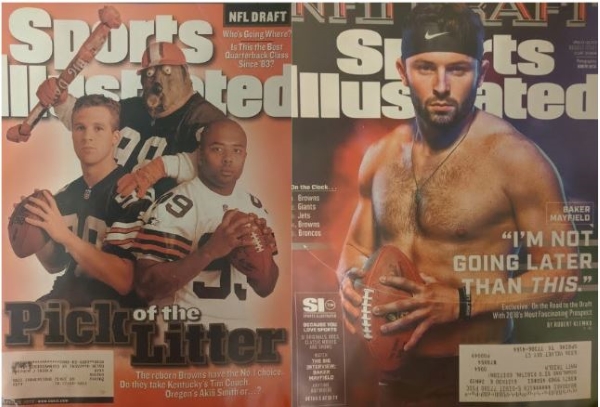 For all the science NFL teams put behind the draft, it still feels an awfully like a crap shoot. Nothing exemplifies that more than the two Browns covers for April. Cleveland had a choice between Tim Couch and Akili Smith and in reality, neither was going to be their quarterback of the future. And like Fournette, I saw Baker Mayfield give an amazing performance at Bedlam a few years ago. He has shined some in the pros, but in no way, is he "can't miss." The covers are a nice reminder of the continuing Cleveland failures and provide a lovely contrast to the six Steeler Super Bowl pennants on the wall opposite of the SI wall calendar.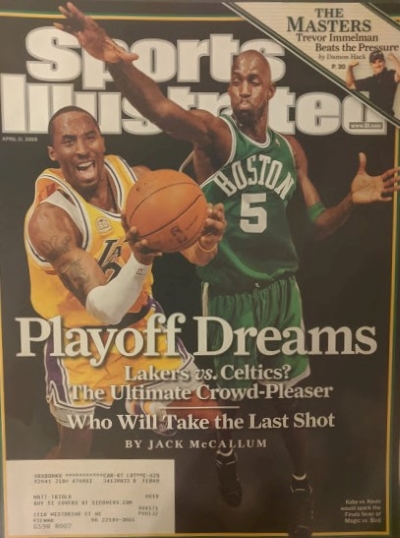 And of course, Kobe. RIP. Til next month, stay safe.