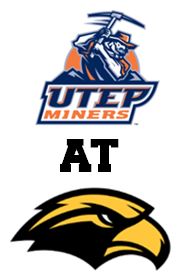 This week we are off to Hattiesburg, Mississippi to see the Miners of UTEP take on the surging Golden Eagles of Southern Mississippi. The Miners are 0-6 and it's the Eagles homecoming. Uh-oh. This could get ugly in a hurry. At least the colors are black and gold.
Assorted thoughts on last week:
Congrats to Iowa State for upsetting OU. But really Sooners, you have to win that game.
Harbaugh is 1 – 4 against MSU and OSU. He's eating away at his goodwill with those losses.
Clemson, 'Bama and PSU – easy as 1,2,3
How about the Midshipmen! 5-0.
I really thought K-State would be better. A very weak 3 – 2.
And some for this week:
Virginia is a very quiet 4 – 1. I still don't believe
Beat Auburn and you go a long way to saving your job, Ed Orgeron
On paper, it seems to be a light week, maybe Oregon vs Stanford, or maybe Navy vs Memphis. No wonder Game Day is at JMU
Ah, maybe the Red River Shoot Out is another one to watch. Herman slowly turning the Horns around
 If you played high school football, I recommend last week's SI article by Tim Layden, "There is something about football". My guess is that it will resonate with you particularly if you played at a medium to small school.