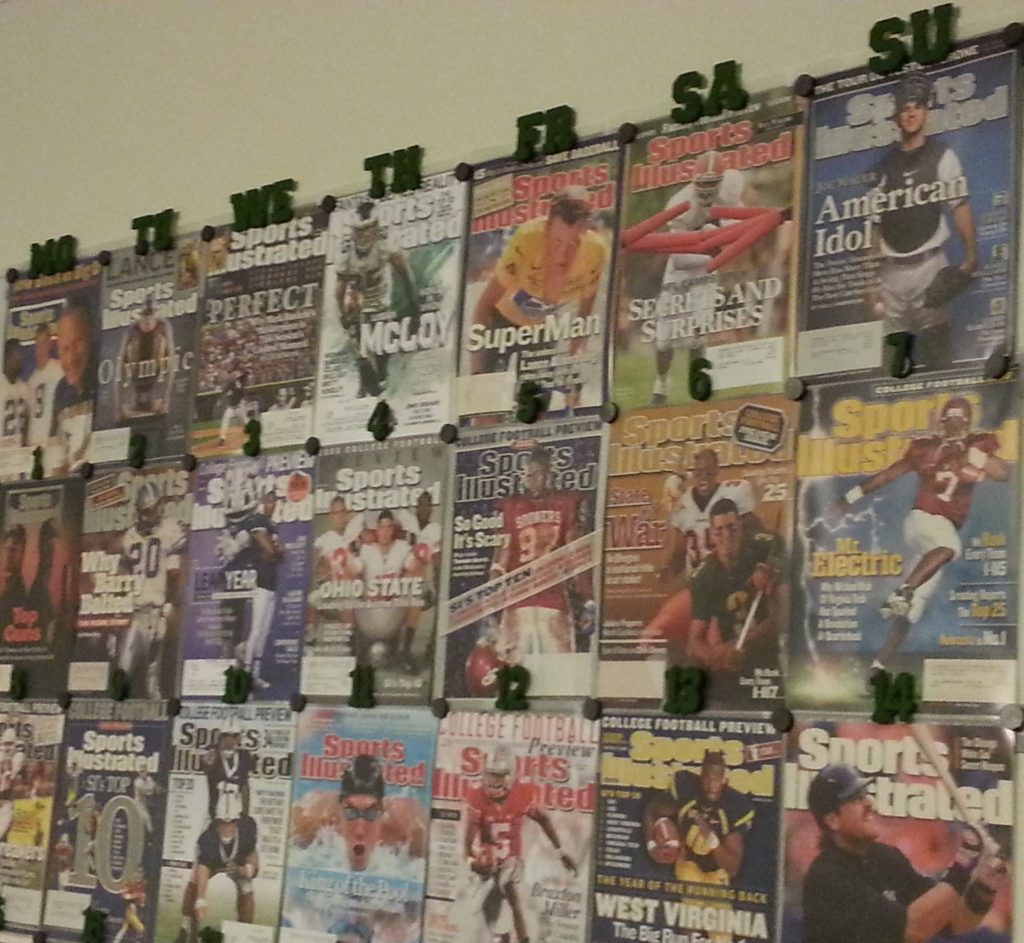 Still wrapping up my season planning, but nearly there with some of the flights already booked. I am excited for the season to start, but very happy to take a break by spending some time watching the Olympics. I enjoy just about any sport so when the Games come on, my man cave tvs get a workout. However, eight plus hours sitting on the couch can take its toll. Updating my SI wall calendar for August helped get me on my feet and off my ass.
I re-do the calendar each month from my collection of SI covers. Sports history is not kind to the SI staff, where covers of false hero worship and dubious predictions are generously represented. Case in point, August was dominated by previous issue covers with Lance Armstrong. I gave his grimacing mug all of one day. In honor of his fourth Olympics, Michael Phelps received four days. Usain Bolt got one day as did baseball Hall of Famer, Mike Piazza. College football had the lion's share at ten days. Given the current popularity in polls, the Buckeyes and Sooners were prominently displayed. I also included a cover predicting Arizona as a preseason number one back on August 29, 1994. I remember when I got that issue and thinking to myself, there's no way the Wildcats are going to finish number one. Indeed, they finished 8-4 with a generous final ranking of 20.
Unlike Arizona, the U.S. women's gymnastics team is meeting the pre-Olympic hype so far. I try to avoid being an ugly American, but the Olympics is one time where chants of "USA – USA – USA" are entirely appropriate. I travel all over the world for my job and I can't wait for retirement to give me the time watch the Olympics in person. There are a few more stadiums I would like to my list.