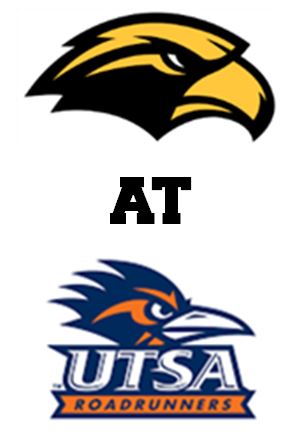 I am finally on the road. This weekend I head to San Antonio to see the 3 – 0 Roadrunners host the 2 -2 Golden Eagles of Southern Mississippi. This might be a solo affair as so far no one wants to see these two powerhouses tangle in that barn they call the Alamodome. Last year, I saw Notre Dame lay a beat down on Army in that big box. It is not completely devoid of charm, especially since early October in Texas isn't exactly all crisp and cool Autumn weather. Being out of the sun may just be worth tolerating a less than traditional ambiance. And, it is the Roadrunners home stadium so it should have a better vibe than the neutral site game I attended last year. I get the added bonus of scouting Southern Mississippi. Ironically, the following weekend I will be visiting their home stadium in Hattiesburg to see them host the UTEP Miners. Worst case this week, I check the box. Luckily, it seems that the games I attend with the lowest expectations often surprise me the most.
Speaking of surprises, how about them Trojans? Troy State that is and not those boys from USC who got upset by Washington State. Not only did LSU give Troy nearly a million dollars to play them, they threw in a "W" as well. Some other brief observations from last week:
The demise of A&M may yet turn out to be false
 Clemson is awfully good. And so is 'Bama
I would call Saquon Barkley a freak of nature, but that would be a disservice to his tremendous work ethic. Hard Work Works
Stanford's Bryce Love is another beast
Pretty impressive of the Terps to go on the road with a 3rd string QB and get the win at Minnesota
Some games with big potential this week. Louisville vs. NC State on Thursday night is a good way to start the week. WVU vs TCU is probably the best pick on Saturday. Some of the other games I'd keep an eye are:
Michigan State at Michigan – nobody quite believes in the Spartans. Here's a chance to reset their season.
Washington State at Oregon – Perhaps a hangover for the Cougars after their big win last week.
Stanford at Utah – The Cardinal might be the best 3-2 team in the country
Games I would avoid include Arkansas State versus Georgia Southern in match up of Sun Belt cellar dwellers. Also, a 3-1 Marshall goes to 0-5 Charlotte in a game that will likely be over by halftime. Fortunately, you'd only stumble on these games if you were in the depths of WatchESPN. Of course, there's always the MLB playoffs to bail you out if the other games don't meet expectations. If none of that sounds appealing, I know a guy that that's tailgating in San Antonio with some extra room for another tailgater or two.