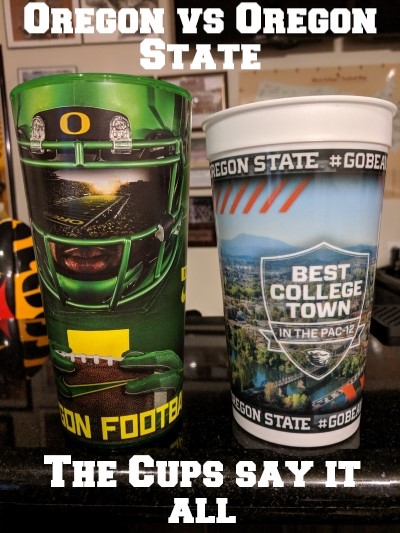 No game again this week which will allow me to catch up on some reviews (but maybe not yet the Ducks and Beavers) and do some planning for next week's big game at Notre Dame. Before I go into my picks for this week, just a few thoughts on last week.
Why did Washington get called for unsportsmanlike for hiding the return man on the kickoff? Terrible

Va Tech UNC finish was not great football but was still a blast to watch. I really like the two point conversion rule. 

And with that result, the ACC Coastal is officially a mess.

Texas escapes. I am not sure if they are as good as they think they are.

Vandy upsets Missouri – I knew the Tigers were overrated

Baylor exorcised some demons against Oklahoma State. Maybe they are legit.

Even though the Ducks won against the Huskies, Oregon's defense laid an egg.

Gophers still undefeated and with the Terps coming to town they will probably stay that way.

South Carolina's Coach, Will Muschamp, was completely right when he went off on the officials after their game with Florida. I can give a pass on the missed holding call given the angle of the official, but missing the offsides was inexcusable.
I finally had a good week with my picks. I went three and one with Appalachian State and Virginia rolling coupled with the upset by Vanderbilt. It was only a lackluster performance by ODU's offense that kept me from four and oh. This week I like Tulane getting four against Navy. The Green Wave is having a good year. Even though they are home and have the same record as UCF at 5 – 2, Temple is still getting 11 points. Admittedly, I don't feel great about it but I am taking the Owls. I do feel good about Boston College getting 35 against Clemson. The Tigers are shaky. I am taking the Utes over the Cal Bears on the transitive property. I saw Utah beat Oregon State by 45 two weeks ago in Corvallis and then last week the Beavers beat Bears. How can Utah not crush Cal?
Some other thoughts on Week Nine.
It will be interesting to see which Badgers show up at the Horseshoe. Will it be the team that smoked Michigan or the one that choked against Illinois?

App State should stay undefeated with an easy win against South Alabama.

Do they Scarlet Knights of Rutgers have any pride? Liberty comes to town at 5-2 but it would still be an embarrassing loss for the Big Ten.

Can I call Penn State's contest against Michigan State a trap game with a looming game against a likely undefeated Minnesota?

LSU should handle Auburn.

Bargain of the week. UVA at Louisville tickets going for $2.

Not a bargain at any price: 1 – 6 UConn at 1 – 6 UMass.
Enjoy the games,
Tree