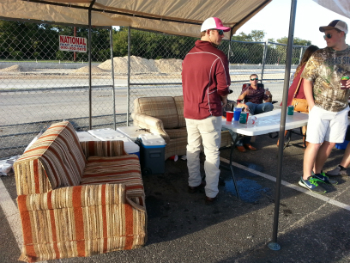 This week, on the couch.
After a long double weekend, I am not going to lie. I am happy to recover on the couch this weekend. It was a great time, but I am knackered.
Some thoughts on last week:
Minnesota did just about everything I could ask for. It was a close game that nearly went down to the wire
I was very pleasantly surprised by the Hokies. The only thing was that I missed the game as I was getting a nice buzz sitting on the "Terrace" at the Wisconsin Campus. I had such a good time I didn't regret missing the Hokies outstanding defensive performance
Like the Gophers, Wisconsin nearly met expectations. A wire to wire game that was great to watch. Just a blast, but it felt like, even with the two PSU picks, that Wisconsin lost that game rather than PSU won it.
The Golden Flashes kept it close for awhile, but I knew the heat and their depth would catch up with them. A&M did what they were supposed to.
Other observations:
Good job by FSU. Maybe that program is finally turning the corner. Miami, however, not so much.
What exactly does the defense do at Oklahoma's practices? Maybe they spend a lot of time on non-violent, problem resolution. How else do you explain 35 points to the Green Wave of Tulane?
Unless Georgia's season goes into the toilet, Clemson won't see much impact from this loss if they run the table from here on. It may be the same for LSU's loss to UCLA, but I doubt it.
How's that Grizzly cupcake taste, UW? Bitter, I would guess.
Nice to see Iowa State managed to survive the annual UNI scare
It didn't take long for the other shoe to drop on Randy Edsell at UConn. Frost at Nebraska can't be too confident beating up on Fordham, especially when Illinois loses to UTSA.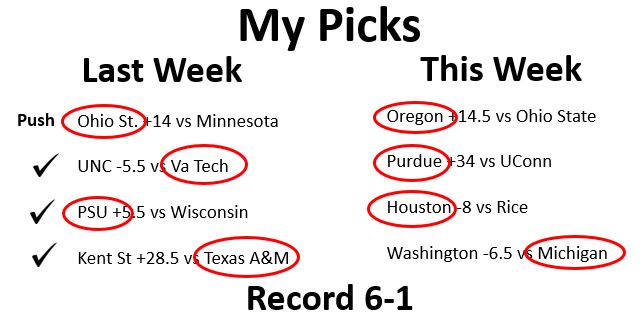 I am not loving my picks this week. There's still not enough of a baseline to really know the UMass from the Bama's yet. So with that disclaimer in place, here are my picks.
I was only slightly impressed with Ohio State last week. They really couldn't stop Minnesota. I get the feeling the Ducks can keep it under fourteen.
I really don't believe in the Huskies, but strange things can happen when coaches get fired. Plus, always bet against Cakes! (See the Sports Junkies on 106.7 the Fan in DC).
Again, this is really a guess, but I think the Cougars will be just enough to cover against the Owls.
Maybe Montana is really good, but I doubt it. I think Michigan runs away with this one.