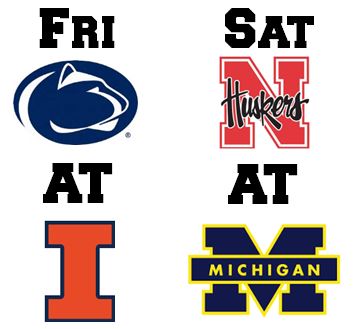 This week we're off to Illinois and then the Big House. Before that, some random thoughts on last week's game.
For Oklahoma State not supposedly being a good defense, their DBs were teeing off on the Boise State receivers. They looked like LSU out there.
The Tigers (LSU) know how to bring the wood. Big, big win.
That Va Tech win over FSU doesn't seem too impressive now. The Seminoles are a bad team but visiting Doak Campbell Stadium is worth the trip. (The FSU review is in).
Luck of the Irish.
The faux fair catch punt return for a TD by North Texas against Arkansas was classic.
U of H vs. Texas Tech game was a track meet. 35 -28 at halftime?!?
The Michigan Nebraska game gets worse and worse. Maybe the Huskers are finally ready to turn it around?
I hope so because they are the ones putting a crimp in my weekend. The original plan was to hit PSU versus Illinois Friday night and then follow up with Michigan State versus Indiana. When I proposed this to my buddy Jeff, he countered with the Nebraska versus Michigan game. He noted that Champagne is incredibly boring and Bloomington is worse. That there was a possibility that the Michigan game could be at noon and that would make for a miserable drive Friday night was deemed to be low risk. Fast forward to this week and Nebraska is limping into Ann Arbor at 0-2. Michigan lost to ND and no TV executive would put that game on at any other time than noon. The kicker is that Indiana is 3 and 0 and Michigan State has one loss so that game may be a lot more competitive. And then there's this, a 6:30 PM kickoff for that game. We could have partied with the Lions on Friday night (or the Illini if they pull off a huge upset) and still have been plenty rested for tailgating on Saturday afternoon.
I blame myself really. What was I thinking when I agreed to this slog? Five hour drive and with an hour's time change? Shoot, all in a days work at somanystadiums.com  All I know is my boys better be ready to roll Saturday morning because I sure will be.