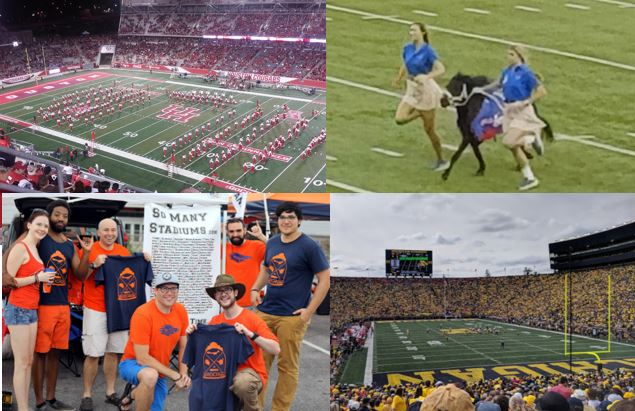 We are all done for the season when it comes to ticking the stadium box. We finished strong with eight stadiums. If I average that same number for next five years, I will have hit them all. With only 38 stadiums to go, assuming three additions to the list, I will need to do some heavy planning to get the flow right. For now though, it is time to enjoy the crunch time as the season winds down. But before we take a look at this week's big games, a review of my picks from last week, as bad as they were.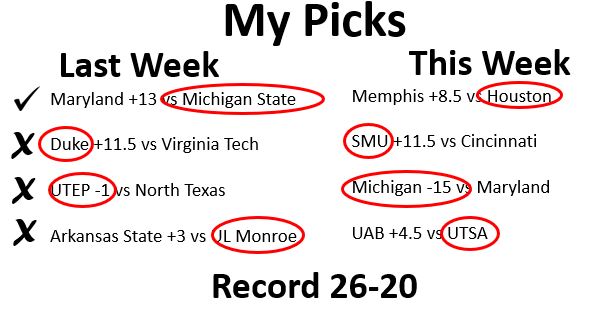 It started off well enough with Michigan State taking care of business against Maryland. I did say that picking Duke against Virginia Tech was an emotional hedge. Of course, it would be the one game the Hokies crushed their opponent. It did not, however, manage to save their coach, Justin Fuente, his job. UTEP continued their slide back to average. That's two weeks in a row that the Miners have left me disappointed. Lastly, it was no Funroe in Monroe last week with Warhawks getting upset by Arkansas State. Add it all up and I am, indeed, regressing to the mean. Some other brief notes from last week.
That was quite the meltdown by Auburn. I turned that game off early and missed the Mississippi State come back. Relax Tiger fans, it could be worst. You could be Texas.
Penn State just doesn't seem to know how win tight games.
SMU has some very entertaining running backs. Dudes were rolling against UCF
Florida has completely fallen off the rails. A competitive game against Samford?!?
As for this week, I don't know what to think after a couple of bad weeks. I like Houston to cover against Friday night against Memphis as long as they aren't caught looking ahead. I do like SMU against Cincinnati. The Bearcats might win, but I think the Mustangs can keep it close. It should be one the better games this weekend and ESPN Gameday should have been at this game instead of the earlier Tulsa – Cincy game. I like the Maryland mediocrity to continue against Michigan. Likewise I will stick with UTSA against UAB, who is only getting 4.5 points. Maybe UAB got a big shipment from ACME, otherwise I can't see the Roadrunners struggling against the Blazers. Other notes on this week:
Air Force against Nevada should be a good game. Kind of regret not putting the Wolfpack on the schedule this year.
I'd like to think Wake Forest will beat Clemson. It would be sweet, but Dabo has Clemson playing pretty well.
Bama will have no problem with Arkansas. The Razorbacks are still a tier below despite their ranking at 21.
2-8 South Florida at 1-9 Tulane. I recommend any fans going to that game stop by French Quarter and have few Hurricanes before kickoff – anything to take the edge off for that game.
That's all I got. Enjoy the games.