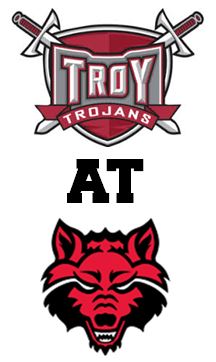 It is conference championship weekend and it makes for a great weekend on the couch particularly for me since all of those games are neutral sites. However, the Sun Belt Conference doesn't start it's championship game until 2018 so there are still some opportunities to pick up some stadiums. I am heading off to Jonesboro, Arkansas to see the Red Wolves host the Trojans of Troy. Ironically, they are tied for the Sun Belt lead so I am sort of going to a championship game anyway. Let's not forget that Troy beat LSU who beat Auburn who beat Alabama. So by the transitive property, Troy is the top of the SEC ladder and I will be watching them live on Saturday.
Some thoughts on last week's games:
So much for the turnover chain Hurricanes. I'd like to say they don't deserve to be in the Playoff even if they win the ACC title. However, I still say the conference winner belongs in, so they still have a chance.
The conference rule  also applies to 'Bama. I don't care if the Crimson Tide has only one loss, as far as I am concerned they should be out. The SEC is overrated with too many cupcakes in the bottom half of that conference.
Wisconsin needs to take care of business against Ohio State or I fear the Big 10 will get shut out of the playoffs
FBS Playoff crisis would see all the underdogs winning – meaning Miami, Stanford, TCU, Georgia, and Ohio State all win. 'Bama is really in the catbird seat. They don't have to play in the conference championship game, but may still get in. I hate the four team format.