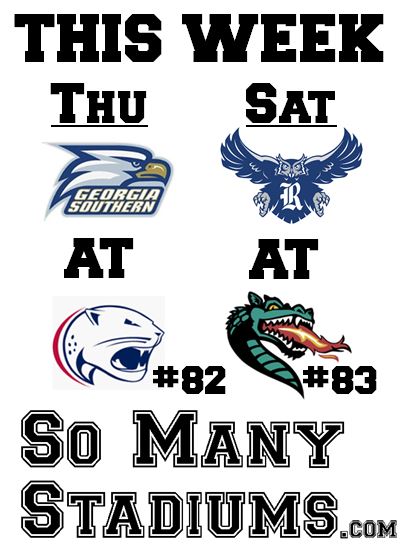 We are off to the lower tier schools of Alabama this week. I only say that because I could get absolutely no one to join me this week. But first, let's take a look at last week's picks.
Navy vs Memphis was looking good until Navy's starting QB got wacked. I knew I was cooked on that one. I should know better than to bet on the military academies – no depth makes them too dicey. PSU rolled over the Terps. 'Bama did the same to Ole 'Miss, but the Rebels, err Bears, err Land Sharks had enough fight in them to cover the spread. La Tech and Rice went to OT so I lost that one as well. At least I am now intrigued by the Owls. Maybe they will give UAB a fight.
Other thoughts on last week:
I was in a Buffalo Wild Wings on Friday night to catch the Duke VT game and keep an eye on the PSU Maryland game. I had to tell them to put both games on. They were showing taped material from the NFL channel on a number of TVs. The programming in my man cave is far superior to that. By the way, VT is awful.
ASU looks to be pretty decent after beating Cal. Outside chance at the PAC 12 championship?!?
I loved Mac Brown having the Tarheels go for the two point conversion and the win against Clemson. I didn't love the play, but still a great call to go for the win.
Was there anybody watching ESPN Gameday at Nebraska that didn't know all those Husker fans were going to be crying in their beer later? I mean, really, like Nebraska had a snowball's chance in hell in winning that game.
Even though my picks were lousy, I did get a few things right:
o   No surprise that Michigan trounced Rutgers, and the Delaware Blue Hens nearly upended the Pitt Panthers. The Ark State – Troy game was also the barn burner I expected.
o   Only surprise was Texas A&M just getting by Arkansas and well, I can't speak to the quality of the play, but the score of the Akron – UMass game seemed to indicate an exciting game.
Hawaii's Cedric Byrd continues to roll – over 100 all-purpose yards and three touchdowns last week.
SMU just keeps winning. I can definitely see swapping them out for the Wisconsin game this year.
On to this week's picks.
It feels like taking USA is a bad pick, but I hate going to a game and rooting against the home team. So, I am going with the Jaguars. I know that UCF has faltered as of late, and I know Cincy is pretty good, but I think the Knights will bounce back. Troy should have enough offense to keep it close against Mizzou. Lastly, Rice is 0-5 but they lost in OT last week so picking them against UAB wouldn't feel bad. However, see note above on rooting for the home team. I will live or die with the Blazers.
Not much to see on Thursday night, including the game I am going to Ga Southern versus USA. It is certainly in the running for Bleh game of the week. Friday night's game between UCF and Cincinnati should be a good one and what I will be watching. Saturday has a slate of good games. Random thoughts on that below:
Auburn – Florida. That's the game I wish I was going to.

Iowa  – Michigan. A Michigan win only adds to Wolverines fan frustrations. What to do with a coach that is very good but not great?

SMU. Don't look now, but the Mustangs could be 6-0.
Purdue – PSU. I saw the Nittany faithful bitching about the noon kickoff time. Not enough time to tailgate – wah. Just change the menu. Full breakfast with bloody Mary's and Mimosas. Problem solved.
Loved California's legislation. Long overdue. Let the kids get paid.
What are the odds I find USA and UAB baseball caps for around $10 at the local Walmart? Slim to none is my guess.
The bare foot and pregnant tour continues and only Auburn will remain for the great state of Alabama after this weekend (thankfully).
Bama Review Next Week