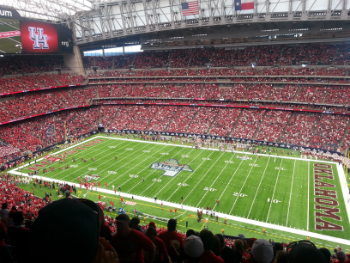 This year's schedule started out with a bang. Even though it was a neutral site game, I decided to check out the Oklahoma versus Houston game at NRG field. I figured with an 11am kickoff, there would not be as much demand and scalpers would be dumping tickets. Looking for a repeat of my NCAA Basketball Championship game where I scored a lower level seat for $50, I drove to downtown. My buddy Tom was meeting me for the game. I had told him I had a firm limit of $50 for my seats and a no regrets policy. Surprisingly, we didn't see anyone trying to dump tickets but it was early, still an hour before kickoff. I was a bit concerned when I didn't see any scalpers at the Metro train station. We walked further toward the stadium but with little luck. We turned back toward the station and waited a little longer. I finally spotted a scalper and Tom went over to see what he had. He came back seats at the top for $50. While I think we could have done a little better with some patience, we were at least able to get in the stadium and out of the sun.
The biggest concern was that Oklahoma was going to come in and run roughshod over the Cougars. Sooner Fan was certainly confident enough, judging by all the cracks they were making towards the Houston fans. There were a lot of them and they were cocksure  that their team was going to roll over Houston. To their credit, the Houston Cougar fans were representing as well. At least half of the stadium was in Cougar red, white and blue. The game was a blow out, but it was Houston that was doing the ass-kicking. The first half was well-balanced, ending with the Cougars up by two, 19 -17. After a weak drive by the Cougars, the Sooners drove down the field before they had to settle for a 53 yard field goal. Or at least that's what they were hoping for. Undoubtedly, you have seen the replay of the 109 yard field goal return, Seeing it live, it was electrifying and NRG became the Thunder Dome. It was pretty much all Cougars from that point and a great start for the weekend.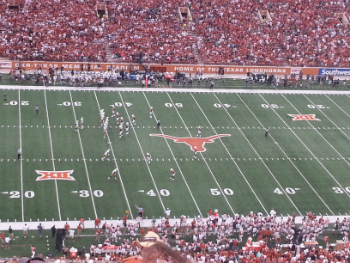 Sunday, I was off to Austin to see UT take on the Golden Domers. Thanks to a kindhearted Longhorn from work, I had scored three tickets and a parking pass. We started tailgating at about 1:30 and I had instant flashbacks of the Auburn vs LSU last where tailgating outside was like being inside a sauna. Again, I was not sure if the home team was going to show up. But just like the Coogs, the Longhorns were up to the task. However, this game was a back and forth affair. When Texas lined up to kick the extra point to go ahead by three, you could see the chaos on the field. Why they didn't call time out, I will never know. Instead the PAT was blocked and the Irish, unbelievably returned it all the way to get two points and knot the game at 37. Two overtimes later the Longhorns had secured the win in fantastic game. Along the way, there was free a slotdog, short sundresses with cowboy boots, drunken Irishmen, and Dale Gribble. But I will save that for the review.
Some random thoughts:
I said it last year, and I will say it again. The SEC is not the dominant conference it once was.
There's no reason to go see a day football game in the South in September. Just too damn hot.
Welcome to the Big 12, U of H.
Two Jamaican restaurants in Houston, but only one next to NRG. Yeah Mon!
Stanford's Christian McCaffery is a freak.
Way to take a stand LSU by suspending Josh Boutte for that pathetic cheap shot. Very courageous to make him sit against……Jacksonville State.
Hey Mississippi State how did your cupcake taste?
Texas State wins in 3rd OT, maybe seeing them three times will be a good thing.
So how many people do you think saw both a kick six and a blocked PAT return for two, live in one weekend?
This week we are off to Iowa to see the renewal of the Iowa State – Iowa rivalry. Looking forward to another great weekend.