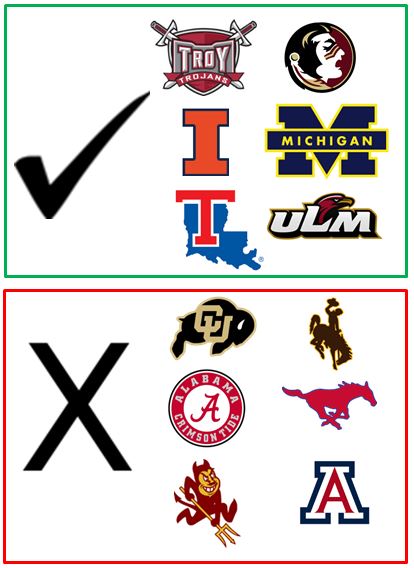 Not unlike the Alabama Crimson Tide, it is time to put a fork in the 2018 FBS college football season and call it done. 2018 was a particularly challenging season. Just prior to the start of the season, we learned that my wife was going to require surgery right in the middle of the season. I modified my schedule to help my wife where I could. Fortunately, things are going well and we hope to have her situation resolved very soon. In the interim, I still managed to get a few games in. However, my normal economy of scale did not come into play and the metrics for the year reflect that.
Originally, the plan was to hit twelve stadiums in 2018, up three from the previous year. It was an aggressive schedule with multiple game weekends and heavy with air travel. I had already booked flights for the season and coordinated with friends across the country. As I knew they would, my friends completely understood and supported me backing out of weekends in Alabama, Arizona and Colorado to spend more time at home. My wife was also amenable to me grabbing games where and when I could.
In the preseason, one can only guess what will be the big games of the year, often relying on preseason rankings and historical powerhouse rankings and rivalries. When my Hokie son and I saw that Florida State was hosting Virginia Tech on Labor Day, we knew that was a game we had to attend. Always looking for an angle, I saw that Troy was hosting Boise State that weekend as well. Troy has been a strong program as of late and it looked like a good way to start the season. It was not. Almost everything about that game was disappointing, from the tailgating to the lackluster performance of the Trojans. We could only hope our trip to Tallahassee would save the weekend.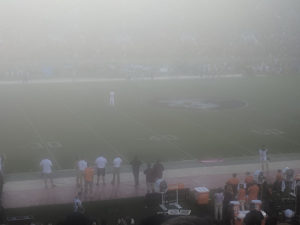 I had gone all in for the game, securing a platinum tailgating spot right in from of Doak Campbell stadium. A typical Florida summer storm came rolling through in the afternoon, sufficiently drenching us and our phones (resulting in some very hazy photos of the game). By the end of the season, it would become clear that both the Seminoles and Hokies were very average teams in 2018. However, as it was the first game of the season, the stadium was electric with optimism. The Hokies rolled over the Seminoles and our weekend had, indeed, been rescued. Given the traditions and the historical dominance of the program, visiting FSU should be on every college football fan's must see list.
The next trip was out to the mid-west to visit the Big House. Despite my wife's surgery being the following Monday, she still gave the green light for the weekend. I did, however, have to change my flight to make sure I was back in plenty of time on Sunday. If you are not aware, last minute flight changes are not cheap. United Airlines probably recovered all the benefits I had earned as a 1K passenger in one fell swoop. Nonetheless, the weekend was worth every penny. It didn't start well as driving out of O'Hare to Champagne took far longer than I hoped. It made for some rushed tailgating in a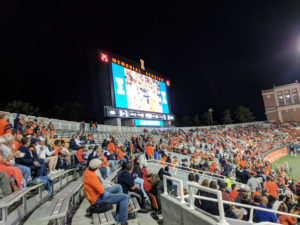 very lackluster environment. Despite a strong tradition, the Illinois experience is not Power 5 like. The Illini, however, played an inspired first half. They had a massive collapse in the second half which left me with a very long and late night drive up to Michigan.
I managed to grab three hours of sleep before I hooked up with my crew for the Michigan game. The tailgating at the Big House is sublime and we enjoyed the great weather and atmosphere, perhaps a little too much. After watching the Wolverines shellack the Cornhuskers, I thought we might re-visit our good old college days. Instead, by 9pm our heads were nodding and drinks were being spilled. It was bedtime in the suburbs by 10 pm. Our early night should not be a reflection of the Michigan experience. The boys and I had a blast at the Big House. The Michigan reputation is well deserved and worth the visit.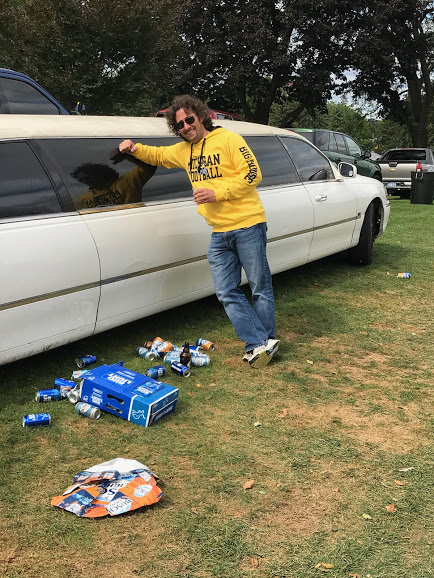 After a month of recovery, it was time to get back on the road. I was looking at the schedule and saw that I had back to back trips to northern Louisiana. A closer inspection showed that La Tech and ULM were only a half hour apart. With my weekends at a premium and the three and half hours between the kickoffs, I saw an opportunity to hit two games in one day. The Dawgs were playing the UTEP Miners, one of the worst teams in the country. Surely I would not have a repeat of the Illinois game where the heavy favor couldn't take care of business. Well, it wasn't as bad as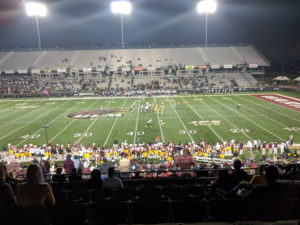 Illinois, it was worse. UTEP took La Tech down to the wire. Normally, I really like a close game, but in this case, I was looking forward to getting down to ULM to tailgate there as well. Instead, we missed it all (and it looked robust), entering the game late in the first quarter. Like Tech, Monroe was a heavy favorite against Texas State. They controlled most of the game, but the Bobcats mustered a comeback to make the game close. I found the fans at both stadiums to have that Louisiana traditional "let the good times roll" type personality. And while I would give Tech the nod over Monroe, neither are must visits.
And with that, here's the 2018 Stats:
Games and Teams
Total Games Attended: 6, down 3 from 2017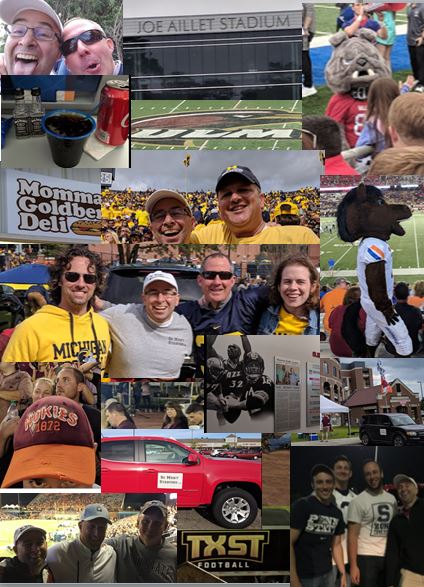 Best Team Seen: # 14, Michigan. Possibly the lowest "top-ranked" team I have ever seen.
Final AP Top Twenty-Five Teams Seen: 3 versus 4 in 2017 (Michigan, PSU, Boise State)
Worst Team: 1 – 11 UTEP, (#1 in the Bottom 10 AGAIN. Ironically, Michigan was #7 as the final Bottom 10 ranking came out right after they got smoked by Ohio State. Texas State was an honorable mention on the waiting list). I excel at seeing some of the worst teams in the country.
Best Game Seen: Va Tech (#20) 24 – FSU (#19) 3, 9/2/18. – The game was much closer than the score indicates. FSU was in it until they fell apart late in the third quarter. At the time, it seemed like a big win for the Hokies.
Worst Game Seen:  Michigan 56 – Nebraska 10 – This game was over in the first quarter. The great weather and ambiance could not make up for this dud.
Bowl Game Teams Seen: 6 ( but only 2 won their bowls). Did I mention I excel at seeing bad teams?
The Players
College Award winners seen: None versus four in 2017. My first shut out and a long way away from when I was seeing four or five of the major award winners in a year.
All Americans: 1 Consensus – Michigan's Linebacker Devin Bush. I was surprised to see Louisiana Tech's Jaylon Ferguson did not make All-American. He terrorized the entire UTEP offense. He did end up C-USA Defensive Player of the Year. It was well deserved.
The Stadiums (of 2018 visits)
Best Stadium: Michigan Stadium, Ann Arbor, Michigan. The sunken design is everything it is portrayed to be.
Worst Stadium: Malone Stadium, ULM, Monroe, La – It has a cool look to it, but navigating it was a nightmare.
Best Game Day Experience: Michigan (but we had a good time at La Tech as well). $40 cash and you are in with masses. No nonsense buying parking passes from alums and/or season ticket holders.
Easiest Stadium to Get To: Florida Sate, if not for an un-informed campus cop, we would have been in there easy as pie.
Hardest Stadium to Get To: Troy: Troy, Alabama – it is a small, small town.
Best Concessions: Illinois: Under the main stands, there was a decent selection of vendors.
Worst Concessions: ULM, easily bottom ten. Think one step below convenience store.
Best Souvenir: Michigan t-shirt (Not a real strong year)
Worst Souvenir: ULM- The souvenir cup had to be bought at the bookstore
Best Cup: La Tech in a squeaker. MIchigan and FSU were also pretty sweet.
Worst Cup: ULM, although Troy's was nothing to write home about either.
The Costs
Total Season Spend: $4,100 ($2,900 ex mileage); Ave per Game: ~$690 (ex mileage ~$490) up nearly $200
Most Expensive Ticket: Va Tech vs FSU – $63 actual (Stubhub) with a $60 face
Cheapest Ticket: Michigan, Illinois and La Tech – Free!
Average Ticket Price Paid: $17 ($22 less than the last year thanks to generous friends)
Average Savings on Tickets over face: $18 saved per ticket
Miscellaneous
Miles Driven: ~2,400
Miles Flown: ~1,200 (Tallahassee, Ruston)
Two Game Weeks: Three – Troy/FSU; Illinois/Michigan; La Tech/ULM
Best Fans: Michigan. La Tech were the nicest, if a bit apathetic during the game. Some of the FSU fans were obnoxious but there's no denying their passion.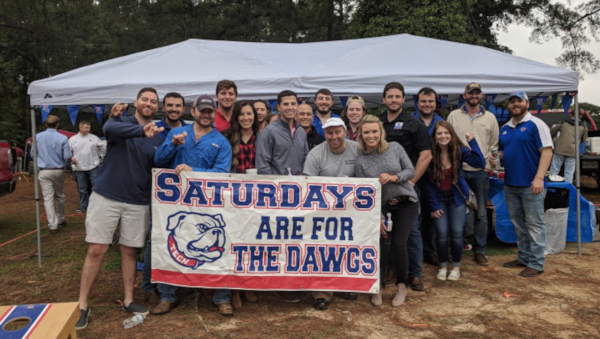 Worst Fans: Illinois. The Illini were playing PSU in a big time night game and it was like the fans could care less.
Most Pleasant Surprise: La Tech tailgating – it looked like we were going to be shut out. Instead, we were right in the heart of the action.
Most Unpleasant Surprise: Monroe, Getting around that stadium was a disaster and the concessions were a mess.
And btw, it is not always luxury accommodations: