Last week certainly delivered. As I am staying home again, so I hope this weekend is a good one as well. Surely it would be better than visiting UAB, which has upended Duke as the worst stadium experience. Read the review here.
Some observations from last week:
I said PSU tight ends were great, unfortunately the wide receivers aren't (except for  Hamlin). Gopher DBs won that game for Minnesota. That and Franklin is consistently outcoached when he is on the road.
Escapes: SMU and Baylor
Ugh: Nice work BC, you lose at home to a team (FSU) that is in shambles.
This nonsense with Xfinity not carrying ACC Network is driving me nuts. It may be time to cancel.
It was absolutely crazy that ASU nearly came back on USC. I mean USC was just boat racing them in the first quarter, up 28 – 0. The final was a very close 31 – 26.
Michigan State uniforms with neon green – not a fan.
Ohio State looks really good.
Nothing like Gene Steratore being completely contradicted on the LSU one yard TD catch.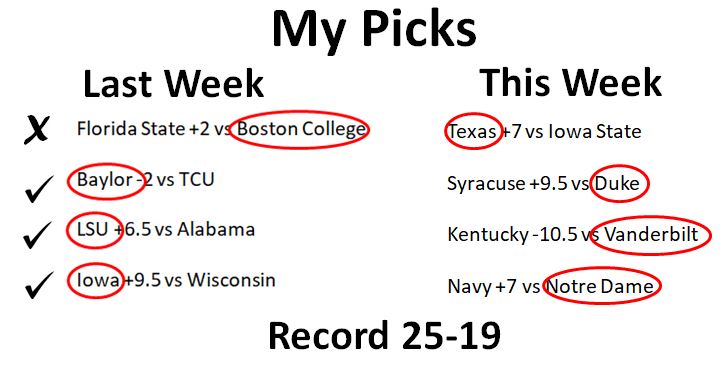 If not for a fading Boston College, I would have gone 4 – 0. As it was, Baylor got away with the OT win, Iowa covered, and LSU won outright as an underdog. Slowly but surely, I am getting further in the black. I don't love my picks this week, but I feel like I have to pick something. I wouldn't be surprised if Iowa State beats Texas, but the Longhorns getting seven seems to good to pass up. Syracuse seems like a team that has given up so I am taking Duke despite them giving 9.5 points. I keep pulling for Vanderbilt in a totally sentimental pick. On the flip side, I am taking the Irish in an emotional hedge. Perfectly happy to lose that pick if it means a Navy upset.
Truth be told, There is a surprisingly lack of big games for this late in the season.
IU at PSU: The Hoosiers are 7-2, but I have the feeling they are walking into a hornets nest
Northwestern is 1 -8 but they are still a 39 point favorite against UMass
Navy might give the Irish fits. They tend to be up for that game.
The luster is off the Wake Forest vs Clemson game. Not like we didn't think the Tigers were going to roll whether or not Wake had beaten VT.
Speaking of VT. With them against GT, it is just the kind of swoon VT has been making the last couple of years. I certainly wouldn't take them to cover. A win maybe, cover no.
Talk about no respect, Minnesota beats PSU and they are still a three point underdog. That ought to fire up the Gophers
Oklahoma vs Baylor – I guess that's the game to watch. I thought about heading up to Waco for the game day shenanigans but then thought better of it.
How did App State you lose to Ga. Southern? They would so be in the conversation for New Year's Day if not for that loss.
And just a gentle reminder for all you SEC fans. That was South Carolina that App State beat last weekend.
That's all I got. Enjoy the Games,
Tree