"Corn Fed" by Tree
After a ticket nightmare at University of Houston last week, I am off to Ames, Iowa for some good ol' fashion Midwest hospitality. My high school buddy has been extolling of the virtues of football games at Iowa State for years and I am finally taking him up on the invite. The Hawkeyes are coming to town and hopefully that means an intense, well fought rivalry game. The rest of the SoManyStadiums crew are taking the week off. Momo needs to recover from witnessing the Irish beat down his Longhorns. Shady on the other hand is still basking in the glow of the BYU Hail Mary victory over Nebraska.
Some great games this weekend with Michigan State hosting the Ducks, LSU visiting Mississippi State and Oklahoma taking on Tennessee.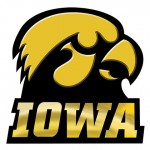 Random thoughts for the week:
Ohio State – 'nuff ced, but the Hokies still make the coolest entrance in CF.

I told you last week: "Purdue goes to the Joan to play Marshall. Be very careful Boilermakers."
Really, if you follow PSU football at all, the Temple loss should not have been a shocker.
Interesting to only me: Florida International beats UCF in Orlando!?! Wow those programs must be going in different directions.
Enough of the SEC dominance already – lots of cupcakes on the schedule last week.