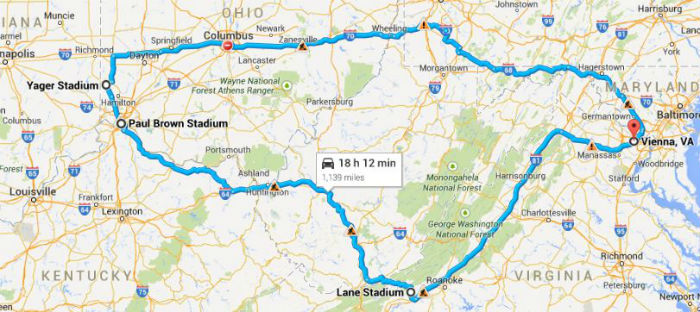 It was a long trip last weekend but it was certainly enjoyable. I saw some decent games and got to visit with family and friends. Between hitting Marshall, Louisville, WVU and Ohio State in previous years, much of the route was very familiar from rest stops to the adult book store billboards. Unfortunate that the gorgeous fall foliage was occasionally marred by ads for the "Lion's Den" and "Southern Xposure". Nonetheless, it was easy driving thanks to a constant flow of caffeine.  After a great day in Oxford, OH, I grudgingly said goodbye to good friends Murry and Becca and climbed back in the Element for the eight hour plus drive. The necessary driving breaks extended the drive time and I wearily climbed into bed at four a.m. on Saturday night.
Like I said, an awfully good trip but I will be happy to channel surf some great games this weekend from the comfort of my couch
Random Thoughts for the previous week:
Cal's point totals for the last six games: 45, 56, 59, 7, 34, 41. Guess which game I was at?

How's that move to the Big 10 treating you Maryland and Rutgers; The conference may have weakened but it is not dead yet.
Welcome back to reality UVA and BYU.
Love the resilience of Alabama and LSU.
Hard to get too excited about the first playoff rankings, way too many key games coming up.

And really, an eight team playoff seems to make a lot more sense.
Should have more stadium reviews posted later this week,
Thanks for reading,
Tree