After a double header last week, I will be taking this Saturday off. The game of the week is clearly Notre Dame versus Florida State. The Irish aren't the only team with a chance to prove they are real. Oregon State at 4 -1 takes on number 20 Utah. The Mountaineers could make a statement by knocking off Baylor. Washington rolled big over Cal last week and perhaps they have enough momentum to take down Oregon. And Rutgers has quietly gone 5 – 1. Beating Ohio State would put the Scarlet Knights at least on the Top 25 radar. In a year when not one, but two teams from Mississippi are in the top three, clearly anything can happen.
Some notes from last week:
Nice homecoming game for Cal as the Huskies gave them a 31 – 7 beat down

Alabama squeaking by Arkansas kept their championship hopes alive
Close but no cigar, Arizona
Notre Dame continues to leave more questions than answers with a very weak win over a tepid UNC
Big victory for the Dukies over Georgia Tech
The Golden Gophers are 5 – 1, yeah you betcha!
Bonus Review: The Castro Valley Cross County Invitational, Castro Valley, CA
Sandwiched between games at Stanford on Friday night and Cal on late Saturday afternoon, I attended the Castro Valley Cross County Invitational in northern California. To be honest it was the most exciting event of the weekend. I was attending the race courtesy of Casa Grande Cross County's head coach, who happens to be my brother. Under his tenure, Casa Grande's program has become one of the better programs in the state. Accordingly, I had high expectations for Casa. I was not to be disappointed.

Upon arrival, we met up with the other Casa coaches and walked the course with the freshman boys. It reminded me of the time I came out for my brother's wedding and he arranged for the wedding party to run a 10k in the foothills of northern Ca. It was 6.1 miles of scenic but quad busting hell. This Castro Valley course made that run look like nice little stroll. I had brought gear to run the Coach's Run but when my brother told me there was no showers at the course I thought better of it. After seeing the course, it only reinforced the decision to not run.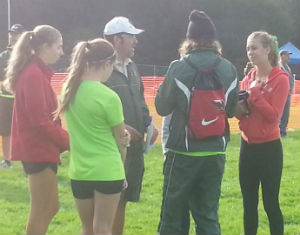 After the coaches race, the freshman went off. It had been some time since I had been to a cross country meet. I've done tons of races and tri's, but the environment at a meet is much more competitive. It was inspiring to see these kids hammer their way through a tough course. I forgot that cross country is really trail running. It's not some weekend trot on smooth asphalt. These kids were dodging rocks and climbing some brutal trails. While the younger meets were entertaining, the varsity races brought big time excitement. Casa's varsity girls team went out fast with all five leading the race as they passed the announcer, who promptly botched their name. In an incredible statement of the obvious, he followed that up with "well Casa may be a team to watch". The Guachos hung tough finishing with four in the top ten. It was no surprise that they won team title. If that put pressure on the boys team, you wouldn't have known it. They were cool as cucumbers as they got ready for their race. They took off strong and ran hard. While the performances in cross country are individual, the team component requires a strong and supportive group because at the end of the day the result of the fifth runner can be as important the first. For a team a deep as Casa it wasn't a problem and the varsity boys took first as well. It was an impressive sweep and my guess is the announcer knows who the Guachos are now. Click here for full race results.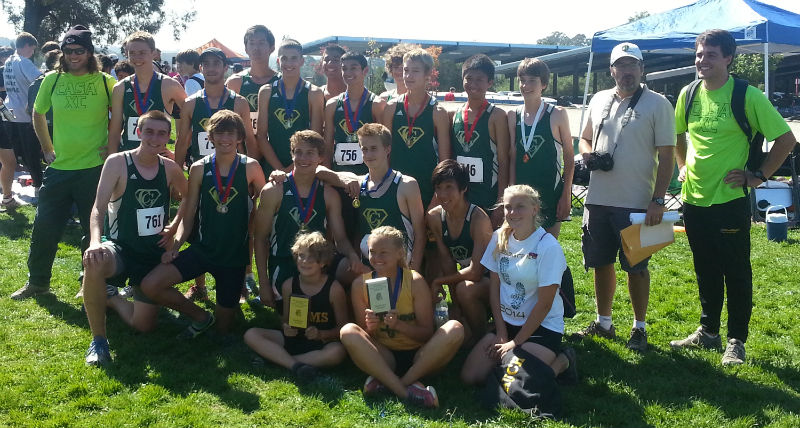 I love going to college football games for the tailgating, the traditions and the action on the field. Attending the Castro Valley meet was a great reminder that inspiring athletic competitions can be found everywhere. So on your next weekend off, take a look at the paper and find a local meet. You will surprised at how enjoyable it is. As for me, I may be inspired enough to come back next year and run that Coaches Run.