What the hell is a Blue Hose?
I am taking one more week off before the home stretch where I pick up three more games. Next week I head over to Gainesville  to see South Carolina take on the Florida Gators. The Gator beat down of Georgia gives me hope that it will actually be a game worth watching. In the meantime, this is another weekend on the couch.
The challenging thing will be bouncing between three quality games going on at once: 'Bama vs LSU, OSU vs Michigan State and K-State vs. TCU. I guess I am pulling for LSU, Michigan State and K-State only because that would give the committee fits. And as much as I don't like Notre Dame, an Irish victory over ASU would have to move them up. The more churn in the rankings the sooner they expand the field from four to eight. One thing I know I won't be watching will be any teams from Mississippi. The fodder for Bulldogs and Rebels are the UTM Skyhawks and Presbyterian Blue Hose respectively.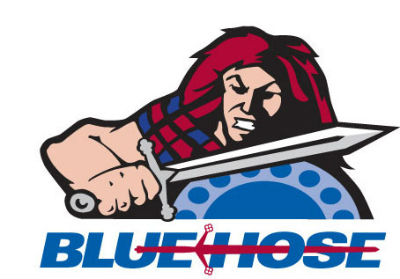 That's right – the Blue Hose. I had never even heard of them so I had to do some research. Their mascot is a fierce Scottish warrior who wears blue stockings. It makes for a better story than the actual origin. Presby teams used to wear blue stockings which sportswriters shortened to hose for their copy. Clearly the merchandising and marketing opportunities are limited so the angry Scot mascot was cooked up. There are the White Sox and Red Sox, so why not the Blue Hose?
Other notable Blue Ho's:

Some random thoughts from last week:
Maryland not shaking hands with PSU seemed awfully weak, that is until they upset the Nittany Lions in Happy Valley

You could just see the game slipping away from WVU. They should have gone down slinging it.
It appears that I witnessed the highlight of South Carolina season when they blew their lead against Missouri. It has been nothing but downhill since.
Miami's Duke Johnson may not be the best back in the country, but he's certainly in the conversation.
Thank you Auburn and Ole Miss for delivering as promised.