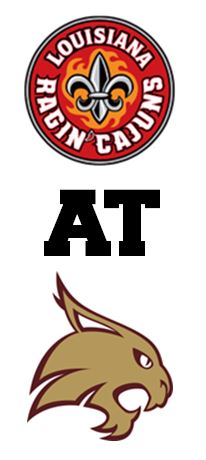 This week I head to San Marcos, Texas to see the Ragin' Cajuns of Lafayette take on the Texas State Bobcats. Both teams are  2 – 4 so hopefully it will at least be a close game. It is the Bobcats homecoming so there's also that to look forward to. Fortunately, there is a cold front running through this weekend so the weather should be nice and comfortable.
Last week I was at Tulane where I had a pretty good time. It wasn't awesome, but the weather was good, the beer was cold and there was some decent hitting in the game. It was a Friday night game which meant I got back in time on Saturday to work about seven hours in the yard. That effort was duplicated on Sunday as we lowered a massive pile of mulch down to the size of a pitcher's mound. I did managed to catch a few games on Saturday night. Truth be told, I was fading in and out of the OSU – Wisconsin game.
It is starting to feel like the Michigan, Ohio State, Alabama and Clemson are going to be the final four. It seems like everyone else that comes close to entering the conversation suddenly loses a game. I suppose A&M, Washington and WVU might feel differently. A&M can give themselves a ton of credibility by upsetting Alabama this Saturday. I suppose it could happen but it's awfully tough to go into Alabama and pick up a win. There really isn't much else to watch this weekend. I guess TCU at WVU could be a good game.  There's a couple of games with overrated SEC teams, Arkansas at Auburn and Ole Miss at LSU. NC State has looked good as of late and they may give Louisville a good game. And of course, I hope that Boise and Western Michigan continue to impress and remain undefeated.
I know what I won't be watching this week, Miami, O vs Bowling Green and Buffalo at Northern Illinois. The only place you'll see less W's is on Trump's campaign trail. Those teams are all 1-6. Ouch, that's some bad football.