Where we are at: IDLE
By Tree,
So after being gone for three weekends in a row, I am taking a weekend off to build up some equity with the wife. To be honest, it will be nice to sleep in my own bed and catch up on my REM sleep.
Random thoughts on Week 5
If not for Temple, the state of Pennsylvania would have been shut out. At least Northwestern is a Big 10 team, Pitt has no excuse when it comes to losing against Akron.

How can anyone possibly argue that the SEC is not the best conference? No need for a playoff, just give the SEC champion the trophy and call it a day
At what point do teams realize that Charlie Weis is a great coordinator but an awful head coach?
Florida State is playing on borrowed time. Sooner or later, they are going lose.
Michigan's woes just keep coming. They frighten no one
Same goes for Miami of Ohio and they are unfortunately on the schedule for later this year. I may have to make the switch to Ball State.
Bonus Review: The Game Day Experience: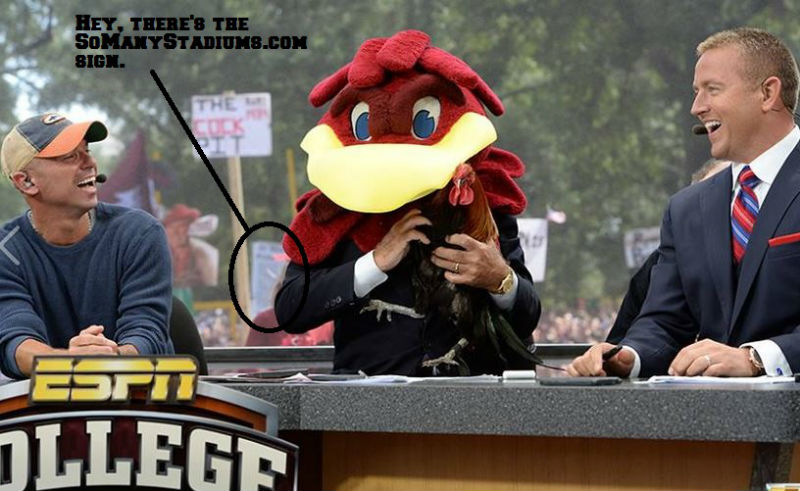 The Site:
ESPN's College GameDay was set up in the Horseshoe on the University of South Carolina campus in Columbia, SC. GameDay packs an impressive punch with a center stage and two secondary stages with big screens. It also has a number of speakers broadcasting the shows audio. The end result is that one can get a pretty good seat (err, stand) for the show. The show is well produced with plenty of ushers/bouncers to keep any troublesome students in line. The cost of admission is giving up an early Saturday morning. Logically, the student body gets preferential treatment but non-students are also welcome. Of course, being packed in with students of varying levels of hygiene can be an odorous experience. Thankfully a healthy breeze keep the B.O. in the air circulating.
Logistics:
It is surprising that GameDay doesn't have more information on the locations they visit. There's not a GameDay dedicated web site and ESPN's website was virtually useless. GameDay is on Facebook but is similarly absent any details. I did manage to find a local paper's website with all the relevant rules and regulations for attending the event.
I am sure this varies by site, but I was able to walk right onto campus with no issues. Many of the students had slept in tents the night before the game so they had a distinct advantage in getting the best seats. Nonetheless, it was easy to find the sound stage.
The Show:
I always find GameDay entertaining and seeing it live was no different. However, it did get tiring standing for three plus hours especially when I was holding a 3′ by 4′ sign. I wasn't the only one wilting, the previous evenings partying was working over a number of the student. I found myself moving closer and closer to the stage as students' enthusiasm waned. Being a short knocker, I could generally only see the main stage. The side screens made up for my lack of height and I was able to see all on air activities. Kenny Chesney gave a good show, much to the delight of the female students. Corso wrapped up the show by putting on the head of "Cocky", the USC mascot. The crowd roared with approval.
Personal Notes:
The GameDay experience is enjoyable but probably not worth repeating. Standing on your feet for that long is probably best left to younger legs. Still, it is well run and seeing all the signs is a laugh riot. The GameDay crew is professional and Chris Fowler sincerely thanked the crowd after the show was over. It was a truly classy move. If the orange GameDay bus comes rolling into your favorite campus, I would set an early alarm and catch the show. But I would do that only once, anymore than that is overkill.