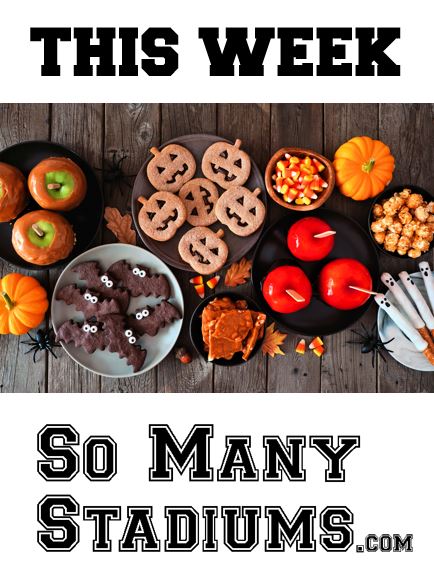 It was another good week of wagering with a solid 3 -1 week, It was not without drama, though. Alabama gave me a good sweat Saturday night as they struggled with Tennessee in the first half. There are definitely some chinks in the Crimson Tide armor. SMU continues to roll and Minnesota took care of business against Maryland. My only loss was Western Michigan. They were covering at the half, but a 21 point third quarter by the Rockets doomed the Broncos. Some other observations from last week:
A bit ironic that Illinois runs all over PSU the whole game and then pretty much abandons it in OT. Sorry, that was 9 OT periods of mostly bad football.
Rough weekend for the Military Academies that went 0-3 despite playing inspired performances
Speaking of inspired performances, San Diego State's punter is a beast.
Oregon was kind of impressive with their win over UCLA while the Oklahoma State loss was as predictable as the turning of leaves
Pitt looks pretty good, Virginia Tech does not.
Some big weekends coming for the Big 12 and Big 10. It makes me long for an expanded playoff.
Here this week's picks.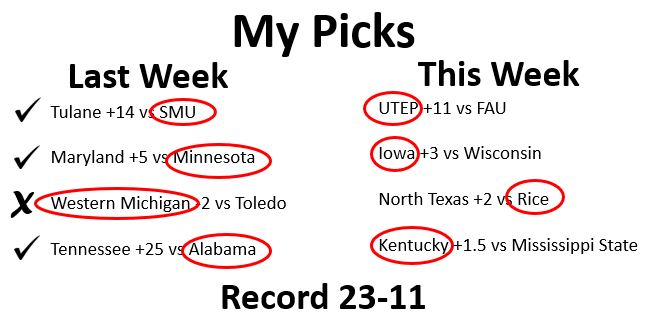 A lot of tight picks this week. I was surprised to see FAU an 11 point favorite over UTEP. It may be wishful thinking because I really want UTEP to win prior to my visit next week, but I am taking the Miners this weekend. I think Iowa will win a tight one against Wisconsin. Rice is much improved and I think they can cover against North Texas. I am least confident of my pick of Kentucky. I am a strong believer in the mental aspect of the game. In this case, I would think the kids recruited by Mississippi State feel they are just a higher caliber than the kids recruited by Kentucky. It's almost like. "Look we can't beat Bama, but we should not lose to Kentucky". Of course, I am betting against that philosophy this week, especially with Kentucky getting 1.5 points.
Some other thoughts for the week:
Big week in the Big Ten. I guess I like Michigan against MSU and I was tempted to take PSU getting 19.5 against Ohio State. This is the kind of game the Lions play close, but their gimpy quarterback kept me from making the bet.
Cincinnati needs to crush Tulane this week to impress the committee along with some help. It isn't fair, but that's the reality
I am very tempted to head downtown to see SMU play Houston. If someone called me to go, I probably would.
Dog of Game of the Week: A 2-5 La Tech against a 1-6 ODU. Tix running awfully high at $25 on the secondary market. Ouch.
That's all I got. Enjoy the games.
Tree