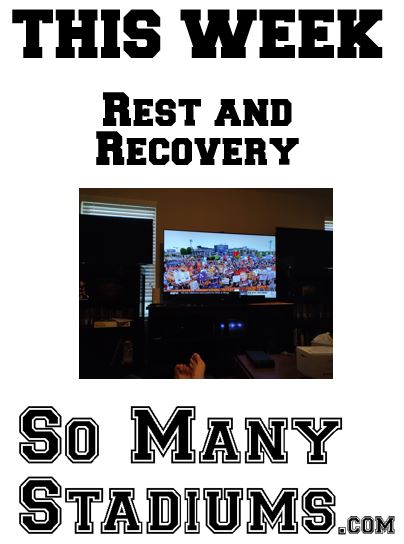 Five games in four straight weekends is a long run. I have to admit that not going to a game this weekend is a nice break. Every once in a while I like to settle in front of multiple televisions and spend the weekend bouncing around games. I just hope that this week can come close to last weekend. I was amazed to see A&M upset Alabama. I did not see that coming. On the other hand, Iowa beating PSU was not surprising. Virginia Tech almost beating Notre Dame, again, was just as painful getting updates as it was watching it live two years ago. As for my picks, Houston got me off to a good start, steamrolling Tulane. ASU did the same to Stanford, but I was unfortunately on the other side of that. It was a bit of a bad beat when Stanford turned the ball over as they were driving for a very late touchdown. I don't know what happened with BYU but it couldn't have been good. Thankfully, UCLA brought me to even as they chalked up a couple of late touchdowns to cover. It was nice surprise considering they were only up by one at halftime.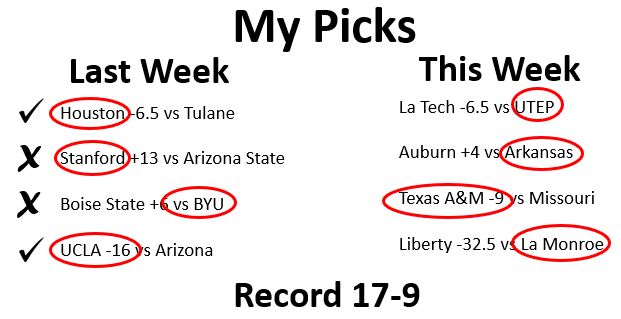 This week's slate of games is worrisome. It is one of those mid-season weeks where the rubber meets the road. Some strange odds and I don't really like too many games. I picked UTEP partially out of hope. I am heading there in a few weeks, I would really like to see them keeping winning so their game against UTSA has some gravitas. I should probably do an emotional hedge. Instead, I am riding with the Miners. I think the Razorbacks are looking to stomp all over Auburn. The Aggies have no where to go but down, but I can't imagine them getting lower than Missouri. Lastly, I am picking Monroe just out of pedigree. The state of Louisiana has better athletes than Virginia. Ipso facto, they at least ought to be keep it closer than 33 points against Liberty. Some thoughts on other games this weekend.
Michigan State is undefeated and they are only favored by 4.5 over a 2-3 Indiana. Same thing with a below .500 Nebraska being a 4.5 favorite over Minnesota. And, Washington is favored over UCLA. Can't figure out any of these lines.
Florida vs LSU, Meh.
Yale vs UConn – This may be the only chance for a Huskie win this year.
I'd like to think a 6-0 Kentucky has a chance against Georgia, but I doubt it.
The Pitt – Virginia Tech may be the best game on Saturday.
That's all I got. See you in the cheap seats.