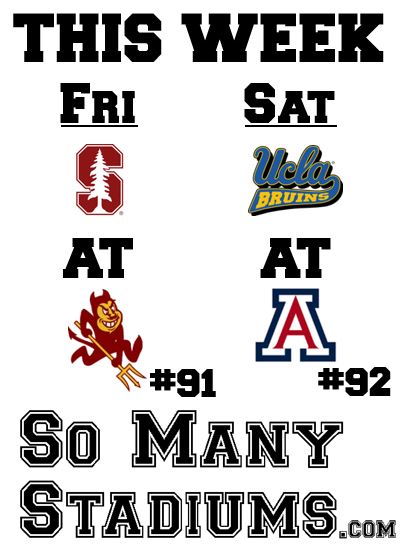 This week we are off to Arizona for a double weekend. Friday night is definitely the marquee event as the Sun Devils host the Stanford Cardinal. Saturday's game could be a blood bath as the winless Wildcats host the wounded Bruins of UCLA. Regardless, we are looking forward to watching some night games in comfortable weather instead of baking in the sun like the last couple of weeks.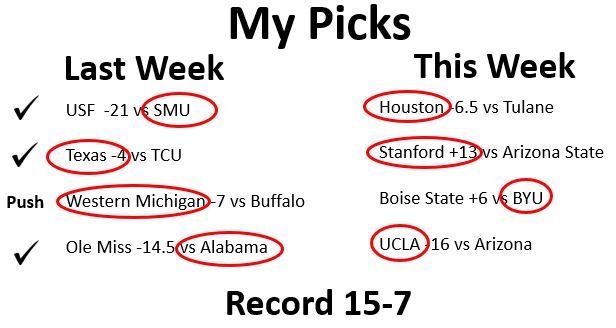 As for my picks last week, I had another good one, going 3 – 0. My only disappointment was getting a push with Western Michigan vs. Buffalo. Texas barely covered, winning by 5 over TCU. Alabama beat Ole Miss by 21 in a game that never felt even that close. My last pick was SMU. The Mustangs let the Bulls hang around all day and it felt like they were not going to cover. However, just like the clouds that cleared and let the sun out late in the 3rd quarter so did the SMU offense. I found myself cheering the Mustangs on as they rolled in the 4th quarter.
Other observations from Week 5:
Alabama and Georgia restore order to the SEC by giving the beat down to Ole Miss and Arkansas. Meanwhile Kentucky gets a huge win over Florida
Cincinnati will be fine in the Big 12. It was pretty impressive to see them beat Notre Dame in front of Touchdown Jesus.
Hard to believe that Oregon State is 4 -1. That's a huge turnaround from the awful team I saw a couple of years ago.
The same goes for UTEP. With UTSA going 5-0, Their November 6 match up should be a great game, and we're going to be there.
For this week, I like the red hot Coogs to cover against Tulane. Boise is having an off year and I think BYU will cover the 6 points. I think Arizona State will win their game, but it will be closer than 13 points. On the other hand, I think UCLA will beat Arizona by more than 16 points. I get the feeling I will be leaving that game early in the second half.
Some other random thoughts on this week:
The Red River Shoot Out should be a good one. OU's offense isn't very consistent and Texas continues to improve.
The picnic is over for Maryland. Another beat down is in store for the Terps against Ohio State.
Georgia and Auburn might be a good game, but I think the Bulldogs will pull away late.
I know this, they should be paying any of the fans in attendance at the UConn v UMass game this weekend. Of course, since they are both winless maybe it will actually be an entertaining game.
PSU vs Iowa should be a dandy. The same for LSU at Kentucky.
UTSA getting 3.5 against Western Kentucky was a tempting pick this weekend. Likewise, it feels like Michigan should be Nebraska by more than 3.5 points.
That's all I got, see you in the cheap sheets.