This week we will be strutting down the Boulevard at Southern Methodist University. I have been researching the tailgating scene for two weeks and it appears doing anything on our own would be prohibitive. To get a spot on a boulevard is $1,100 so it is likely we will be doing the walkaround. The weather doesn't look great, but that's not going to stop us from having a good time. And, the OU review is in. Check it out here.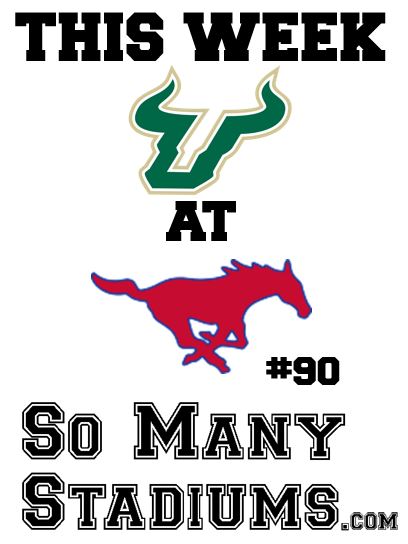 On the positive side, last week I returned to early season form, going 3-1. Some observations from last week. It did appear that San Jose State suffered from jet lag, getting thumped fairly well by Western Michigan. Florida State continues their woeful season, remaining winless. West Virginia gave an inspired performance against Oklahoma. Only Houston let me down, when they couldn't cover against Navy.
Some other observations from last week:
Clemson – Not going to say I told you so, but, well check out last week's blog.
A&M: A little less yell practice, a little more tackling practice.
It's a tie between Iowa State and UNC for most overrated preseason team.
How about Boston College 4-0 and beating Missouri. Tough for the SEC.
Bowling Green beats Minnesota, Even worse for the BIG 10.
SMU is 4-0 and here we go. Oklahoma State also rolling at 4-0.
What made me laugh on College Football  Final? All the Romney's at BYU.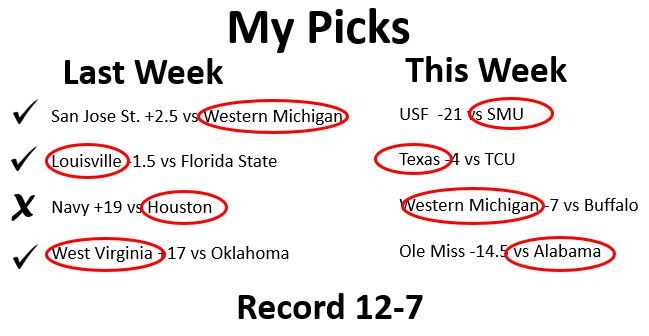 We are heading to SMU and I am confident they will wim. I don't, however, love the line with what will be a very soggy afternoon. TCU got beat by SMU last week so Texas should have no problem covering. I am going to keep riding Western Michigan until they disappoint me. Lastly, I have been saying that I don't believe in Ole Miss. Time to put my money where my mouth is.
That's all I got. See you in the cheap seats.