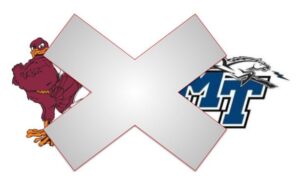 It is Week Four of the college football season but it doesn't quite feel that way. At least with the Big 10 coming on board in a few weeks it will feel a little more normal. However, there are still gaps.
Last week we should have been checking the box in Murfreesboro, TN to see the Blue Raiders of Middle Tennessee State host the Virginia Tech Hokies. Missing that game may have been a blessing in disguise given that the Raiders are 0-2 and lost by 33 to Troy at home. Of course, the Hokies have a tendency to play to the level of their competition so you never know.
Instead, it was another week on the couch, assembling my Sports Illustrated Wall Calendar for September. An all pro football calendar was the theme in recognition of the NFL's commitment to a full season. I have to admit, it is one of the better looking walls I have created. There's something about the commonality that make the covers come together.
My thoughts on what I saw last weekend:
Louisville's defense was atrocious. Every time their offense would try to get the Cardinals back into the game, their defense would give up a big play. I think the stat line for two plays at one time was, 2 plays, 150 yards, 2 touchdowns. The 'Canes look better then they have in years. Of course, Clemson will still crush them by 24.

The Louisiana Tech winning touchdown was great. To think that without instant replay, Southern Mississippi would have come away with the win. To be fair to the refs, when I saw the play real time, I didn't think the receiver got his foot down either.

It was nice to see Navy get that win against Tulane, coming back to win after being down by 24. it was a record comeback for the midshipmen. It seemed like a low number for a new record until you recall that it is usually Navy (and Army and Air Force) giving up the lead. Nonetheless, we reward the Navy win with our release of our Navy review on youtube.

I would have loved to seen the NC State vs Wake Forest game on the screen instead of via ESPN updates. I may have to look at buying the ACC network on FUBO Tv, whatever the hell that is. Thanks so much Xfinity.

UCF makes the case for Group of 5 after beating up Georgia Tech 49 -21. They play Cincinnati in late November, probably to claim the American Conference title. Between them and the Sun Belt, the Big 12 doesn't seem very big. Yes, I said that. Don't forget that Tulsa nearly upset national playoff dark horse Oklahoma State last weekend as well. Big 12 indeed.
Of course, Clemson got their cupcake fix in by beating up Citadel.
However, the classiest move was Notre Dame going for it on 4th and goal up 45 points with less than three minutes to play. Remember Irish faithful, karma is a bitch.
The games don't get much better this week which seems to be a real dog's breakfast. ESPN's college GameDay is doing Miami again this week against Florida State. They better hope the rivalry does something for the Seminoles because this could be a disaster of a game. What I might be watching this week:
Louisville at Pitt may be the most entertaining of the early games.
Kentucky at Auburn will probably make one my secondary TVs. The Wildcats are ranked 23. But, unless this is hoops, the Tigers will roll over the Wildcats
Army versus Cincy is the best game of the afternoon. There's lots of chatter that the Bearcats have a shot at the playoffs. It is 2020 so I guess anything is possible.
WVU at Oklahoma State might be a good game but the Cowpokes kind of scared me off last week.
Tennessee vs South Carolina might be the best game of the SEC. The Vols are ranked a surprising sixteen. They and Kentucky should send the PAC 12 and the Big 10 each a fruit basket.
NC State at Va Tech is my preferred Saturday night game. What's the ACC Network cost on FUBO Tv again?
No picks this year, I just can't seem to get up for it. Maybe next year.
Til then, see you on the couch
Tree