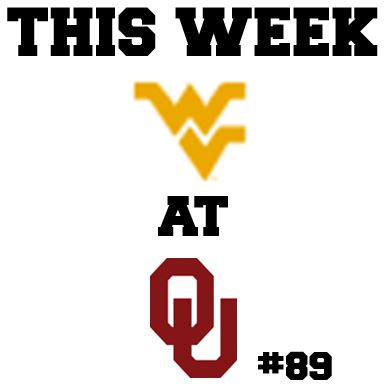 Looking very much forward to this week's game at Oklahoma. Not looking forward to making this week's picks after a terrible 0-4 weekend.
I wasn't the only who was surprised by Louisville's win over UCF. Herbstreit said the same thing on Game Day. It was a fairly remarkable turnaround from their first game.
The Hokies took their comeback down to the wire, but came up just a little short. On the plus side, I am hopeful this means WVU will make a strong showing at OU this weekend
I have no idea why I took the points and the Lobos. By the time I got to Kyle Field, I had convinced myself that I had picked A&M to cover. It was disappointing to find out I hadn't
The only one I didn't mind was PSU beating Auburn. It's not that I have anything against Auburn, but it is nice to the SEC lose. I heard Chris Doering, SEC analyst, on a DC radio show this morning down playing the loss. Saying Auburn was only the 7th or 8th best team in the SEC and that they play four "White-out" equivalents a year in the SEC. Oye, the arrogance.
Other random thoughts from last week:
My favorite Game Day sign last week at PSU – "Bo Nix wears jorts". I'll say this much, if he doesn't, his cousin does.
Nice to see Nebraska show up.
I don't see Clemson making the college playoff – their offense isn't strong enough.
Okay, i am starting to believe in PSU and Ole Miss, but I did the same with Va Tech and look how that turned out.
I don't know how defenders avoid some of these targeting calls.
Penn State's White Out still the best – you should have seen the Gophers attempt at a Black Out a couple of weeks ago, nothing but maroon and gold.
Bummed I missed the Fresno State upset over UCLA, but tailgating for 11:00 am games kills me.
The Western Michigan upset over Pitt reminded that I must try Detroit pizza when hitting the MAC Michigans (Eastern, Central, Western)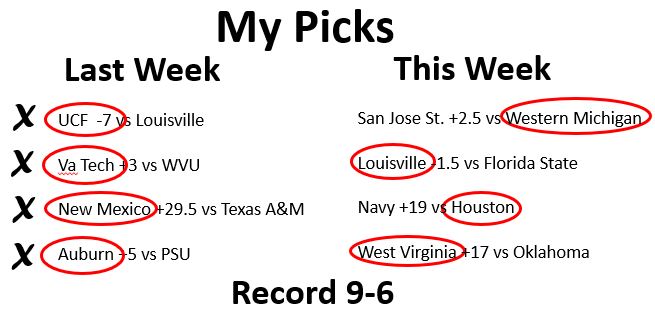 This weekend, we will be in Norman, Oklahoma for the ABC featured Saturday night game. Still working on the picks for this week, and will post tomorrow.
In a game I see as a pick 'em, I am going with Western Michigan after their upset of Pitt. I am also counting on the long road trip hurting San Jose State.
Louisville has burned me twice, but they and FSU seem to be going in opposite directions. I am going with the Cardinals
Navy is really struggling this year and Houston can light it up. I am going with the Cougars covering the nineteen points.
And for the game I will be at, I am hoping West Virginia is at least able to keep it close against Oklahoma. I hope the Sooners Defense is their porous self.
That's all I got. See you in the cheap seats.