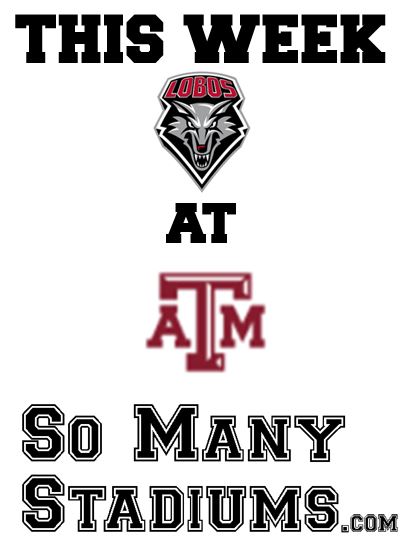 This week, I am taking the short trip up to College Station to see the Aggies host the Lobos. It won't add to my totals as I have been to A&M a couple of times already. However, I need the tailgate practice before I head off to Norman, Oklahoma next week. The Aggies should roll, but more on that later. First, let's take a look at last week's picks.
Always bet against Cakes. That's what I was thinking when I picked UConn and their 34 points against Purdue. It was my fault for chasing attention dollars with a DC sports talk radio show. On the plus side, I went undefeated for the other games. I was not that impressed with Ohio State when I saw them play Minnesota. I did think they would beat Oregon, but I didn't think they would cover. When I found out Oregon had a couple of defensive starters out for the game, I got worried, but the Ducks looked good in their outright win. I was confident on both Houston and Michigan and they did not disappoint. Rice has that nice new addition on their stadium and I can't help but feel it is a little wasted. I don't know what to make of the Huskies. All I know is that they have problems.
Some other random thoughts from last week:
Texas gets handled by Arkansas – an early welcome to the SEC. And, the Razorbacks are one of the weaker SEC teams
Fla State – just make the tackle on that final play and it is all over. 27.5 point favorite and they lose to Jackson State. Seminoles are back in my doghouse
Notre Dame – skates by, but sometimes that's what it takes. Likewise  for Miami against App State. Same for Texas A&M against Colorado
Don't know how good Tennessee is, but it still felt like a good win by Pitt on the road
Is Ole Miss for real? I still don't know
Taking care of business – PSU had no look ahead for Auburn
Congrats to Stanford for the big win over USC. It feels better when the Cardinal is relevant.
The Hokies looked good. So did the Hawkeyes. It seems every time I watch Iowa State play they don't seem to show up.
The picks should be getting easier by week three, but it doesn't feel that way. I blame it on too many cupcakes and we still have one more week of this to go. Here's the lowdown on my picks.
I seem to recall seeing Louisville play on a side screen in my game room and my recollection is that they were awful. I think UCF covers even though they are at Louisville.
Was really surprised that the line on the Va Tech vs WVU game was only 3. I was even more surprised that the Mountaineers were the favorites. Morgantown isn't that far from Blacksburg. I like the Hokies in this one.
I always like to pick the game that I will be at. The Aggies are favored by 29.5 over the Lobos. However, the Lobos are 2 – 0 and A&M will be playing with a back up QB. The Hokies will roll, but maybe not by 30.
My last bet is an emotional hedge, but I also wasn't that impressed with PSU against Wisconsin. I am going to take Auburn and the five points. I want the Nittany Lions to win, but it is going to be a tight one.
There's also a little game down in Gainesville that should be interesting. Or at least I hope it is interesting. I think we have all had enough of Alabama rolling through the SEC and then winning the national title. I respect the excellence, but please anyone but Bama this year.
That's all I got so don't forget to check out the just published Wisconsin review.
Tree