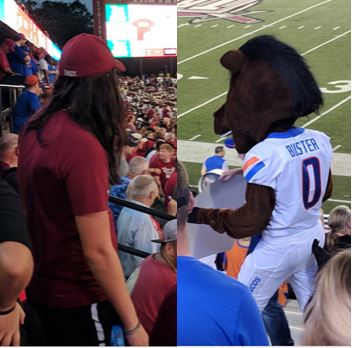 Nothing of note on the picture above, other than I managed to get a shot of Forrest Gump junior while at Troy. He was quite taken with Buster by the way. Deciding not to go to the U of H game was a good idea. The Coogs rolled over the Arizona Wildcats and their potential Heisman candidate, Khalil Tate. Tate has been struggling mightily as of late and I hope he gets his mojo back before I see him play in November. However, a Saturday trip to Kyle Field to see the Aggies would have been worth sitting in the rain. A&M acquitted themselves well despite the loss to Clemson. My other random thoughts from week 2.
The Nebraska vs Colorado game may have been the best of day. My only issue was that I needed the Huskers to win. There's no way the Nebraska vs Michigan game in a couple weekend is scheduled for anything but one in the afternoon. That means a long drive from Champagne very early on Saturday to make the tailgating at the Big House. Editor's note: It was confirmed, noon kickoff. Great.
It was nice to see Kentucky beat Florida in Gainesville especially when everyone on Game Day, except Herbstreit, gave them no chance to win.
The same goes for Kansas ending their 46 game, road losing streak. How could a program be that bad for that long?
So far, so good for Herm Edwards as Arizona State. Looking forward to seeing him and the Sun Devils later in the year.
I am convinced that Florida State would have lost to Samford if their stud defensive lineman Ahmad Gooden wasn't ejected for a helmet to helmet hit. It was the right call but a shame because he was just tearing up FSU.
Thoughts for this week:
I was looking at the SI preseason top 20, I don't any of those teams have eliminated themselves from FBS playoff contention. Fla State is on the edge, but if they ran the table, I think they would have chance to make the playoffs still. However, UCF was on the list also. Based on their weak schedule, even if they went undefeated, I don't think they would get in.
Lots of games to be cancelled this weekend due to Hurricane Flo. Hopefully it includes Old Dominion at Charlotte. Nobody wants to see that dreck
I wonder if Old Miss has a chance against Alabama. I doubt it.
LSU versus Auburn looks to be my big screen game for Saturday afternoon.
How is USC #22 in the AP Poll? They looked absolutely awful against Stanford.
New review posted this week: Troy. Definitely not t-shirt worthy, but the hat did make the wall. Stay dry and enjoy the games this week.
Tree