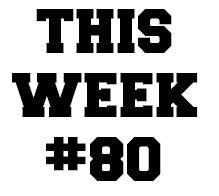 We are heading up to East Hartford to see the UConn Huskies host Illinois. Illinois won last week, crushing the Zips 42-3. UConn also won, scraping by FCS Wagner, 24-21. I have little hope that UConn will make a game of it. I am putting my money on the Illini. This is a bit of an emotional hedge. I can root for UConn during the game in hopes of it being entertaining, while knowing if Illini covers the 17.5 points I am in the money. One thing is for sure, I won't be able to get a picture with the Jonathan the Husky statue because that is on campus in Storrs. Unfortunately, UConn plays in West Hartford. Shady has already been to a game there so it doesn't improve our team points. It also has properly set my expectations for the overall experience. I am not going to lie. I am a bit salty that the A&M versus Clemson game is at the same time. At least we should be able to catch the LSU versus Texas contest in a bar later. The Steelers do play the Patriots Sunday night, so we are working on tickets for that game. Also, the Hawaii review from two weeks ago is  posted. Just like the game, the trip had lots of ups and downs.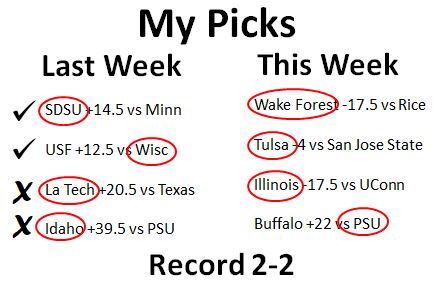 The week started off well enough for my picks. South Dakota nearly beat Minnesota and Wisconsin easily covered versus Southern Florida. However, it fell apart after that. I really thought Louisiana Tech would play better at Texas. Perhaps I was relying too much on their bowl game record. Historically, Penn State is a slow starter. It was not the case last week as they lit up Happy Valley, scoring 79 points. With all the non-conference games and last week's cupcakes, Week 2 only brings more ambiguity. I like Wake Forest on Friday, but barely. Rice gave Army a good game so I am a bit wary about that pick. However, I trying to pick a game for each day of action and that looked the best for Friday night. Until San Jose State proves me wrong, I will be voting against the Spartans, even at home. Like I said, Illinois should roll over UConn. Likewise, Penn State should have no problem covering against Buffalo.
See below for a random collection of other thoughts from last week.
I know that Jordan is the best basketball player ever, but that logo looks stupid on a football jersey.

I could just see the game slipping away from Oregon.

Florida State just doesn't know how to close out teams.

Georgia State: Coach Shawn Elliot's salary, $550k, renovating Turner field into new stadium $53M, last five years of mandatory athletic fees to support football and other athletic programs: $90M. Getting a $950k fee for road win against a SEC opponent: Priceless.

I will always support a pro-defense rule change, but damn I am going to miss the crack back block.

With loses by SC, Tenn, Mizzou and Ole Miss, can we stop with the "SEC is the most dominant conference nonsense"? 

I think I would like playing for Mack Brown. He has the right perspective.

Whew: Kansas, Iowa State, USC, Nebraska.

Is the rule for CFB broadcasting only young (preferably blond) women can be sideline reporters and only former (male) players in the booth for analysis?

Having lived five years in Greenville, PA, where Thiel College resides, I chuckle when I see that Coke ad featuring The Tomcats. They weren't always bad, especially when my boy Barry Oman was patrolling the secondary.