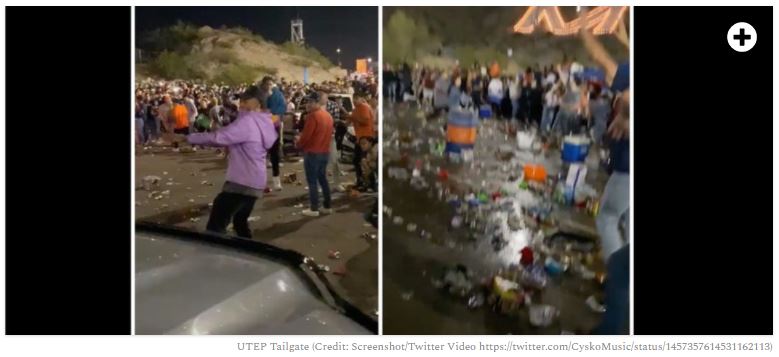 I was a little disappointed that we were in a quieter lot before the UTEP game. The tailgating was pretty chill. Turns out the other lot was nearly a riot. In hindsight, quite happy that we didn't have to dodge flying bottles. And with that, my 2021 season is a wrap. I may still hit a couple of games before the season ends, but I don't anticipate ticking the box. Nonetheless, it was great being back out there, mixing it up with fans all over the country. I am still have a few reviews to publish and those will come out in the following weeks. Other season traditions include my annual playoff rant, which gets kicked off later this month, and my year end summary. But, we aren't there yet. So let's summarize last week.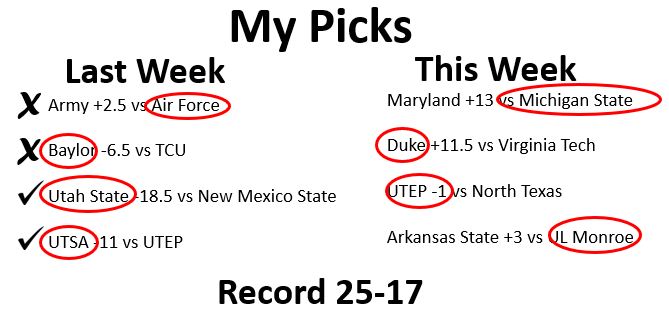 The two games I was most confident in were the ones I lost. I thought for sure Air Force had too much fire power for Army, but like I said last week, rivalry games are dicey. I am not looking forward to making those picks Thanksgiving weekend. Earlier in the season I was burned when I relied on the "Win one for the Coach" sentiment. Hence, I picked Baylor to beat a coach-less TCU which they did not. Things weren't looking any better at halftime of the USU versus NMSU game. Utah State could not get out of their own way, and while I thought they would win, I did not see them covering. However, they roared back in the second half, getting me the win. UTSA against UTEP was not nearly as dramatic. The Roadrunners were pretty much in control from the first play. A 75 yard touchdown will do that.
Other observations from Week 10:
Cincinnati continues to win, just barely. To be fair, you could put 'Bama in the same category after their sloppy win against a rudderless LSU.
I have been busting the Bearcats' chops for not winning big, but they do keep winning. I have long had the contention that conference foes are tougher wins because they know your team inside and out. Notice Wake Forest falling, along with SMU dropping another game.
Amazing that Arizona finally got a win despite three turnovers.
Lastly, someone should tell UMass that you are supposed to beat the lower tier teams you schedule.
I feel good about this week's picks so you might want to proceed with caution. I think Michigan State is going to be hungry after being upset by Purdue. It could be a bad weekend for the Terps. Virginia Tech should beat Duke, but they continue to slide. Things don't look good for their coach Justin Fuente. I am taking Duke and the points in a bit of an emotional hedge. I know UTEP got spanked by UTSA, but they did have moments of brilliance against the Roadrunners. I think they will take care of business against the Mean Green. UL Monroe can score points in bunches, especially against a 1-8 Arkansas State.
Other notes for Week 11:
Cincinnati, please rout USF and don't let the committee off the hook..
The worst game of the week: 1-8 New Mexico State against 8-1 Alabama. That game should not be on TV on principle alone.
It is about time for Michigan to choke. Lions in an upset. I have the same feeling about Oklahoma at Baylor. It's the kind of game the Sooners lose.
I like Texas A&M to beat Ole' Miss in the game of the week. I just don't trust the Rebels, or Bears or Land Sharks – or whatever the Ole' Miss mascot is these days.
That's all got. Enjoy the games