Not surprisingly, blogging about college football stadiums isn't my day job. I work at a large, global firm providing in-house consulting to various businesses. Most of my experience is financial and managerial, but I did put in a couple of years in the field on the sales side. I have also had plenty of opportunities to sit on the other side of the table as the customer. Given that and the eighty plus games under my belt, I have a pretty good handle on what makes for effective customer entertaining on autumn Saturdays. As the college football season approaches, it may appear to be a great opportunity to  host a client or potential customer at a game. However, before you do, consider the following:
Know your audience. Hard to believe, but not everyone enjoys football. If your guests are international, I'd make sure they are genuinely interested. Foreigners often find the game confusing and live games, especially with TV timeouts, can seem interminable to the uninterested. I also wouldn't classify by gender either. I know plenty of men who could care less about football and a bunch of women, well a bunch of women from SEC schools that is, that love college football.
Know the objective. Tailgating and college football games are best for low key, informal interactions. Most tailgating environments don't involve sitting around a table even if they are provided. There's unlikely to be a deal brokered in a crowded tent or standing around in the parking lot. Even during the game, the venue's probably going to be too crowded for any substantive discussion. Unless, of course, you are at a dog of a game, which will probably leave your customer wondering why you dragged him/her to Florida International in the first place. (ok, that's a cheap shot – the Panthers appear to be much improved from when I last visited them). But you get the point; this is relationship building not negotiations.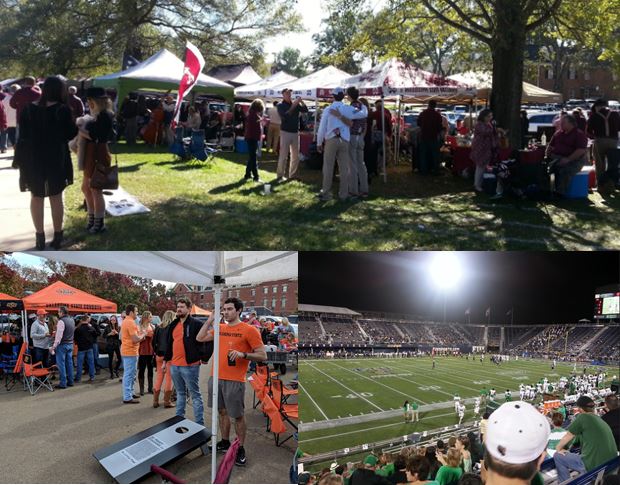 Know your budget. At one point in my varied career, I was in sales in Washington, D.C. and had access to the company box for the Nationals, Capitals and Wizards. We had gotten rid of the Redskins box by the time I got there. This was a blessing because Fedex Field is easily one of the worst venues I have ever been to. The traffic alone will crush any and all enthusiasm you might have had to watch a middling NFL franchise with woeful ownership. However, Nats and Caps experiences tended to be very good to great. Wizards' games were and still appear to be a crap shoot. The point of this digression is that I often used the facilities to entertain customers and have some experience in such matters. Having a loge/box/suite is not cheap but assuming corporate takes care of that issue, there's still the question of refreshments. Even with a generous budget, it is easy to hit $100/person for food and drink in the box. It's not that it isn't plentiful or tasty, but it is still basically dogs, nachos and the like. There's usually no craft beers or top shelf liquor either.
One of the issues in my mind is that you will likely have a tailgate prior to the game with a full spread. The food in the box then often gets wasted. Catering for the tailgate can often be done at similar prices to a stadium suite and nearly every BCS football program either offers it themselves or through a third party. If you are or know a dedicated alum, you/they may likely already tailgate during the season and have a better set up than what you can get from a third party. This assumes the parking spot is already secured. Alternatively, you can go on aftermarket sites like StubHub and Vividseats and buy your own parking pass. For the Power Five conferences, those are going to run $150 – $300 per space. Smaller conferences can be more problematic as there's often not a market for the spaces and they may be only available for alums. On the plus side, if you are doing the catering yourself, it becomes much more affordable. I would consider getting some help if you plan on doing it on your own. One should not underestimate the difficulty of manning the grill, keeping the cooler stocked and schmoozing with the guests simultaneously.
Know the venue: Not all college football programs are created alike. Some have great tailgating, but a weak team – hello Ole' Miss. Others play an exciting brand of football, but the location is in the middle of nowhere – go Red Wolves of Arkansas State. In other instances, the venue is pure football. This is great if your companions love sitting crammed on the bleachers and enjoy non-stop noise, but not so much if they don't.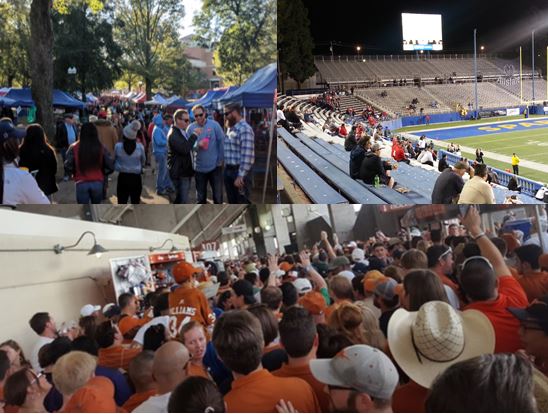 Know your associates / staff: Any time you mix colleagues and alcohol, there's a risk something can go wrong. Add in passions of dedicated alums / ardent fans and boorish or downright bad behavior can rear its ugly head. The last thing you need is your Miami Hurricane Sales manager screaming at a potential new client who happens to be a Golden Domer. At least, you can presumably limit  the likelihood of that occurring. What you can't control is the eighteen year old freshman who has just finished his first Jaeger bomb and is suddenly learning that what goes down often comes up. Some folks don't react to well to getting vomit on their shoes and/or clothes. Or, it could be that your rather genteel work colleague is easily offended by those of a more "free-wheeling" personality/wardrobe.
Know what can go wrong: I have already covered some of the issues but there are other things to consider. These are outdoor events. I am a hard core fan but even when I am wearing the right all-weather gear, I don't really enjoy a game in a driving rainstorm. Additionally, you can't control the traffic or other spectators. Perhaps, you encounter the leather-lunged fan who decides to pick a fight with someone in your party because he is wearing 'Bama crimson instead of LSU purple. Finally, there's no guarantee the game is going to be a good one. If you need proof of a sure thing gone bad, see my review of Clemson.
What about Covid?: I think we are all pretty well versed in Covid-19 protocols at this point, but make sure you review the team's website where I am sure that any and all procedures and limitations will be listed. I was already in the habit of having hand sanitizers at my tailgates because good hygiene can be hard to find in a college parking lot. If you haven't packed it in the past, it is obviously a must now. You may want to throw in some antiseptic wipes and spare masks just in case.
The intent here is not to discourage you from entertaining business clients at college football games. On the contrary, it can be a great experience, often times at a reasonable cost. However, as with all things, the key is to assess the risks and plan accordingly. Who knows, there's always the chance the weather's perfect, the venue is sublime and Navy upsets Notre Dame at South Bend. Cheer on my friends.