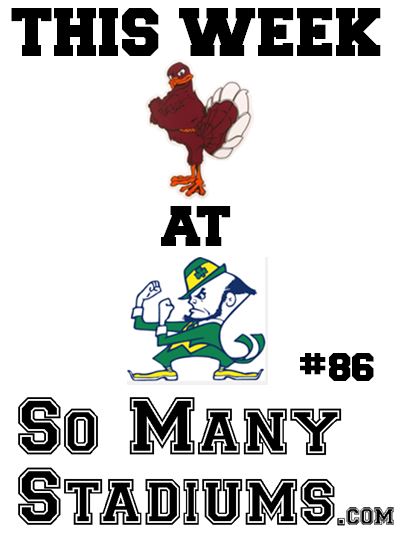 We are off to Notre Dame this week to see the Hokies take on the Fighting Irish. I have had this game circled since last year when when we picked it for our group trip. Of course, it did almost get erased a couple of times like when V. Tech nearly lost to Furman. With a number of "perils of Pauline" type wins and rotating QBs, the Hokies somehow have managed to right the ship and come in at 5-2. Notre Dame is also 5 – 2 but had been in the top ten all year until last week's blowout at Michigan dropped them to number 16. Nonetheless, the Hokies are still getting 17 points this weekend and despite my best judgement I am picking them. Before I go into my other picks, some thoughts on Week 9 in FBS College Football.
No reason OU should complain about that onside kick call. It was the right call and it should have never came to that.

Nice upset of the Longhorns by the Horned Frogs, but ugh, those TCU uniforms. Rough week for the sartorial crowd between those uniforms and the perennial worst band uniforms sported by Texas.

Wisconsin did not show up against Ohio State. Not much fight in those Badgers

Gophers looked good in their gold helmets. I can't say much about their actual play as their opponent was Maryland. We will find out soon enough if they are real when PSU comes to town. I bet Game Day gave that game some consideration, but given they were just at Penn State they made Memphis their choice this weekend.

The PSU tight ends are very good by the way.

Ohio State's Chase Young is a beast. Four sacks, five tackles for a loss, and two forced fumbles. 

Auburn LSU didn't feel as close as the score was. LSU was in control the whole time.
Love the UNC helmets, but not the navy blue uniforms.
SMU escaped with the win against Houston. They are going to have to step it up against Memphis if they want to stay undefeated.
The American Athletic Conference is a good conference – end of discussion.

Pitt defense chokes on the last Hurricane drive. Coach Pat Narduzzi let that game get away.
Some great finishes with the 3:30 EST games. It was one big finish after another and I was able to rotate them all through on the big 65″ silly in the Man Cave. Five TVs may seem like overkill, but it was well worth it last Saturday.
Navy gets the big kick to beat Tulane. I assume all the midshipmen got a weekend pass. Nice work by a true freshman kicker.
Couldn't be happier for Mac Brown with that last second win against Duke.
Texas Tech tried to do too much – Rock Chalk Jayhawk.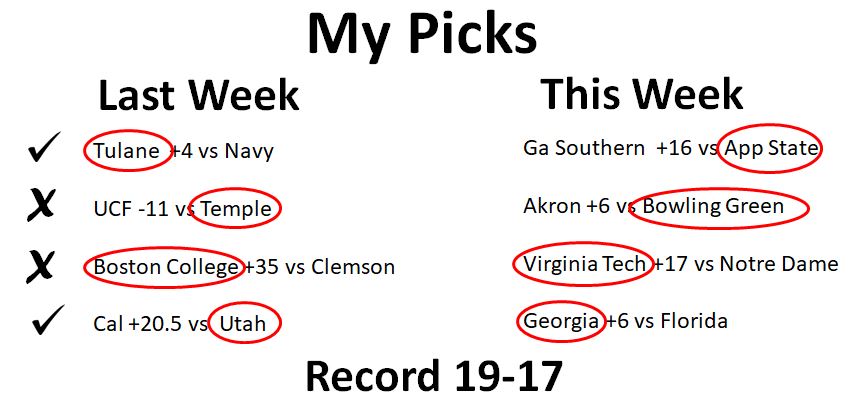 As for the remainder of my picks, Tulane kept it close and Utah easily covered. Clemson just rolled over Boston College – so much for getting 35 points. And, Temple just let me down. Other random thoughts for the games this week.
Bargain of the week: Marshall vs Rice for $2
Watch out Illinois, Rutgers won last week against Liberty saving the Big 10's reputation in the process.
Wofford gets $360k to play Clemson. I think the Tigers got off cheap.
Based on the remainder of Oregon's schedule, the U Dub Huskies are their last hurdle to the PAC12 championship.
Remember when Miami vs. Florida State was "can't miss game?" It is now one to avoid.
I think every UNC game I have seen this season has been exciting. I don't think the UVA game is going to be any different.
That's all I got, enjoy the games this weekend.