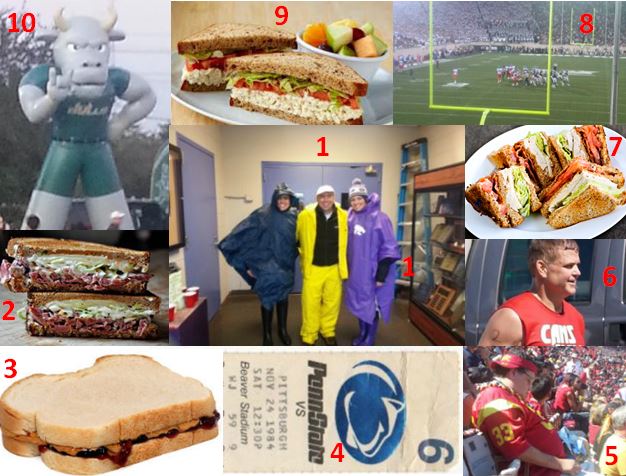 Based on some early preseason rankings, it looks like I will be seeing only a few top 25 teams – OU, Oklahoma State, Ohio State and potentially LSU. Nonetheless, it can't get much worse than last year's bunch where I only saw one team that cracked the final top 25. I do have a few teams that I wished I was seeing based on last year's games. It is a small list so I included my favorite sandwiches just to mix it up a bit. (Kudos to both Dave Letterman and the Sports Junkies for the inspiration). Getting down to five sandwiches is tough, so honorable mention to grilled cheese, ox roast, and salami.
10. South Florida. I am cheating here as I don't recall seeing South Florida play last year. However, I have seen a couple of articles that seem to indicate the Bulls are for real. I did see Charlie Strong coach last year so I guess that counts for something. I can't say he got a raw deal at Texas, but I do like the way he carries himself. The QB for the Bulls, Quinton Flowers is a beast and he could lead them to a New Year's Day bowl.
9. Chicken Salad. I love me some chicken salad, particularly my wife's (and no, that is not some sort of twisted euphemism as in "I love to spread my wife's tangy chicken salad"). Pair it with some salty sweet BBQ chips and you have a great meal.
8. Boise State. Boise's another team that I didn't see much of last year, but it did seem to me that they were getting back to their giant killer form. It is hard to not think a team with a three year starter at QB, Brett Rypien, is not going to have a good year.
7. Turkey Club. I like a BLT but the Turkey Club is a BLT on steroids. It manages to deliver both on taste and quantity. For a lot of sandwiches, one is not enough and two is too much. The four triangle wedges of the Turkey Club are just right.
6. The Jimmy Zank. What in the world is a Jimmy Zank sandwich you ask? I remember the day my townhouse college roommate introduced me to his invention. I was coming back from a morning class and Zank says to me, "Tree, you got to try this sandwich". He takes a toasted bagel and puts honey mustard and lean roast beef on one side. On the other, it is cream cheese and ham. The combination is remarkably good. This sandwich has become a staple at our house.
5. USC. I realize this isn't much of shocker, but I think the Trojans have chance to win the whole thing. They were easily one of the best teams by the end of the year.
4. Penn State. Again, I suppose this really isn't a shocker like last year. Trace McSorley, the Nittany Lion's QB didn't look that upset at the Rose Bowl loss last year. The look on his face almost seem to say, "just wait til next year". If he improves even just a little bit in his decision making, Penn State is going to be a very tough out.
3. Peanut Butter and Jelly. This sandwich is a masterpiece in simplicity. It's almost not fair, it's practically a dessert. I prefer mine heavy on PB and the J and don't mind if some it squeezes out onto the plate. And really, it has to be grape jelly. I hear good things about strawberry, but grape jelly is all I know.
2. The Reuben. It barely edged out the PB&J, primarily due to scarcity. By that I mean, I can't just whip up a reuben sandwich whenever I want. It's not like I have corned beef at the ready whenever I want it. It seems to be my go-to sandwich when I am at a deli.
1. Kansas State. I saw the Wildcats play at TCU last year. They looked pretty good and they were young. They may not be in the national championship hunt, but they could do some damage in the Big 12. They seem to have the highest potential to break out this year.