Game Review: Norte Dame Fighting Irish vs Texas Longhorns 9/4/16, 7:30pm
Final Score: Irish(10) 47 Longhorns 50 (2 OT), Attendance 102,315
Weather: Hot, slightly overcast, Ticket Price $155 face, parking free
"Everything is bigger in Texas" by Tree
The Site:
Darrell K Royal Stadium sits on campus in the heart of Austin, Texas. It is a massive stadium with the one side having an extra elevated section. Our seats were at row 40 of the upper deck, but they actually weren't too bad. The game was the home opener for both UT and ND and came with all the hype you would expect when two storied programs meet. I lucked out when I came across a friend who thought he might be able to sell me three tickets at face value, $150 (plus $5 handling fee). It was all dependent on whether his buddy was going to bring the wife and kids. Luckily the family bailed and I got tickets for myself and my two friends, Que and Marquita. We even got a parking pass so we could tailgate.
The stadium itself is older, with only one large video scoreboard. However, the additional scoreboard ribbons compensated by providing more stats than normal, including running totals on rushing and passing yards. I don't know if I have ever seen that anywhere else. I am told that the restrooms were of the classic nature with the good old trough. I couldn't say for sure because I did not have to use them. This despite the fact that I had least four beers, a bottled water and then a huge souvenir glass of Coke. That is how hot it was tailgating, I've seen less sweat at cut weight day in the wrestling room. I can't speak for the food at the concession stand because I was not going to risk missing any more game time standing in line. I do know they sell beer, lots of beer.
I can only assume that UT, like a number of programs, generously staffs their stands through a mix of regulars and volunteers trying to raise money for their cause. An admirable initiative, but one that almost guarantees varying levels of service. Unlucky for me, I got in the line with a cashier that was slower than Ryan Lochte. I got so frustrated that I eventually bailed and went to another cashier's line where I was still served before the poor bastards in my old line. I am not sure why I was in such a hurry because when I went to go to my seat I ran into a wall of hot, sweaty humanity – but more on that later.
I noted that the Longhorn mascot Bevo gets his own air-conditioning. The Longhorn fans have a number of cheers, "FIGHT" "TEXAS" being the most dominant one. They do seem to end a number a number of cheers with "OU SUCKS" so much so that it almost feels if there is a bit of an inferiority complex with the UT fans.
The Logistics:

UT is right in the center of downtown Austin. The traffic in Austin was a bit tight and that was at 12:30 for a 6:30 game. I had a parking pass so it was generally easy to get to it. It wasn't a prime spot next to the stadium, but across the street next to all the RV's tailgating. For not being in the heart of the action, the atmosphere wasn't too bad. We tailgated for most of the afternoon and chatted with a few fans. For most of the day, the lot was only half full. It was also relatively un-policed. I have been to stadiums where they check your tags even after you park and then they measure your tent to make sure you aren't taking up any extra space. There is public tailgating  parking available starting the night before at 6 pm but it is in front of the capital. I got lots of mixed reviews on that experience so I can't vouch for it. UT is like most big schools, if you want to tailgate in the prime spots you need to be a season ticket holder and a big contributor to the university. I get the feeling that if I had relied on the public lots, my tailgating would have been from weak to non-existent. Serious tailgating just isn't an option for most visiting fans. You are better off bringing a six pack and a sub and then walking around hoping for the generosity of the locals. Fortunately, the hospitality is often good.
The Game: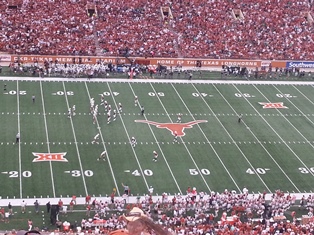 Notre Dame came into this game ranked #10 and Texas was unranked and coming off a rather lackluster season. My biggest concern was that I was going to experience another Clemson experience where the home team gets routed in a big game. Fortunately, UT coach Charlie Strong had his team ready to go. I witnessed one of the best football games I have ever seen. I unfortunately missed the first score by Notre Dame through no fault of my own, as they scored on the first drive of the game. The Longhorns immediately answered and I smiled at my buddy Que, because it was clear this was going to be a good game. The teams traded touchdowns and the Longhorns went into halftime up 21-14. The Horns came out fired up and stretched their lead to 31 – 14. Texas was alternating between a passer, freshman QB Shane Buechele, and a punishing runner, QB Tyrone Swoopes. It was giving the Irish fits. Notre Dame had a quick drive punctuated by 29 yard QB run on the option. I looked at the only slightly concerned UT octogenarian with the Dale Gribble accent next to me and said, "As long as they don't throw a pick, you'll be fine". Sure enough, the next play the Texas QB threw a pick. Three plays later ND was only down three. The Irish defense then stiffened and the offense followed up by another score to go up 35 – 31. The Horns offense then started clicking and did a quick drive to score a touchdown to go up 37 – 35 with only a PAT to kick. And that is when things got wild. For whatever reason, there was confusion with the Texas kicking team before the PAT with players running on and off the field. "Dale Gribble" and I are both yelling "Call timeout." Alas none was called and the kick was blocked and returned for two points for ND. Unbelievably, the game was now tied with just less than three minutes to go.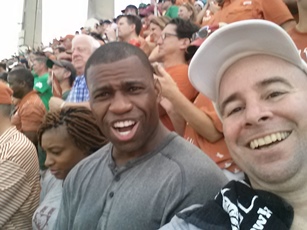 Both teams kind of caught their breath, trading series and settling in for OT. ND won the toss and made Texas take the ball. Behind the steam-rolling Swoopes, UT scored a touchdown. It took ND all of one play to answer with a touchdown of their own. In the second OT the Irish had to settle for a field goal. Texas responded by running five straight plays, the last three by Swoopes. After being stopped for no gain at first and goal at the six, Swoopes juked and plunged for the winning touchdown. The UT fans went nuts and deservedly so, because the Horns were back.
Personal Notes:
This game was the largest ever at UT and it would be fair to say that the folks at the stadium weren't prepared, Getting into the stadium was easy enough, but once inside, chaos ruled. Lines for the escalators were backed up at every turn, so we decided to take the ramps. Despite a brief shower about a half hour after kickoff, it was still crazy hot. We got to our concourse about 10 minutes right before kickoff and simply stopped. We were at section 109 and trying to get to section 107, but there was no movement. Que and Marquita tried to go ahead while I broke to get some waters and soda. After some terrible service, although not as bad as the disaster I had at Baylor once, I again entered the fray. Most folks were patient but there were a number of young men, from both schools that kept pushing and throwing elbows. It didn't help that the even the concession guys were trying to push their way through as if the crowd needed more beer.  At one point, a policeman climbed up on one of the beer stands to survey the scene, He was stuck on an island and about as helpful as a knife at a gun fight. Eventually, word came back that a women had passed out and that everyone should go back. I dutifully turned and walked back to the ramps to where to my dismay, I could see but a small triangle of the end zone. I waited about five minutes and walked back the stairs to Section 107, coming right behind the nice ladies I had been behind the whole time. By the time I got to my seat I was soaked through my t-shirt with sweat and had missed the first eight minutes. I asked Que how long they had been there and he said they arrived just before me. Luckily the game was a great one and I left the stadium in a great mood. I did catch a glimpse of the poor women being worked on and it did look serious. Maybe I am being too tough on the police because I didn't see any punches thrown, although there were some rumors that there was some scrapping.  I guess my concern is that if you are relying on the stadium staff and local authorities to coordinate a well executed evacuation of the stadium, you might be waiting a long time. When you are going to host 100,000+ fans and sell the alcohol in the stadium, you need to be better at handling crowds.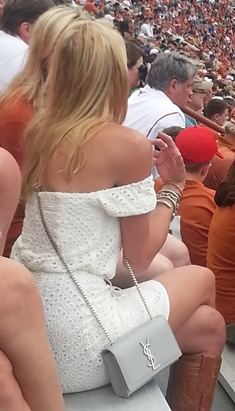 Other aspects of UT were great. The vast majority of fans were friendly and very much into the game. The crowd is a great mix of families and students. There was a lot of burnt orange, girls in summer dresses, and the ever present cowboy boots. I didn't see too many starched white shirts on the guy. I guess there is a limit to that when the temps hit the nineties. The band is great despite possibly the worst uniforms in the NCAA. All in all, the UT experience is not one to be missed. I would recommend you make it a weekend and enjoy Austin as well.