Game Review: Howard Bisons vs ODU Monarchs 76
Final Score: Bisons 19 Monarchs 76
Weather: Warm, 70's, Ticket and Parking: Free
"Off to a great start" by Tree
The Site: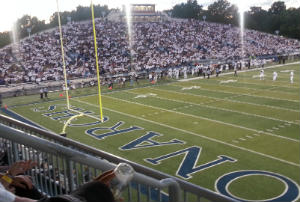 Old Dominion is making the move to FBS in 2014, so it made sense to grab a game on the way back from the Va. Tech vs. ECU game in Greenville, N.C. The stadium is small but nice. Or at least it is nice from the luxury boxes, which is where my son Trent and I were thanks to my buddy hooking us up. After baking in the sun at ECU, the cool and comfortable confines of the box were a welcome respite. The cold long necks and hot wings weren't too bad either. It was only the second time my son had been to a box at a stadium and he was quite impressed. It was a little unusual for the box to be on the end zone. We were close enough to the action that they were still great seats. The current stadium is small enough that there is not a bad seat in the house except, perhaps, on the Howard bench. There was an organized tailgating area that seemed to have had a fair number of participants. The concessions appeared to be okay although I was frustrated that I did not get a souvenir cup. I hit a stand after the game and they said they only give them to the employees. I am not sure that is true given that I saw a couple of folks leaving the game with a cup. It is ODU's loss as they will not get to be displayed on my cup wall of fame.
When the Monarchs go to the FBS, it will be in a new stadium. Supposedly it will be on the water which should make for an outstanding venue. I cannot say I recognized any specific traditions for the fans. They did have a strange contest. Instead of having someone kick a field goal for a prize, the contestant had to catch a jugs machine simulated punt. It struck those of us watching as an incredibly simple contest.
Logistics:
ODU is in the middle of a nice neighborhood in Norfolk and it was not the easiest route to navigate. The problem was exacerbated by our being about a half hour late. By the time we got to the stadium, all the signage and traffic support police were gone. We ended up parking in the neighborhood several blocks away. But to be honest, the walk to the stadium felt good after being in the car for three hours.
The Game: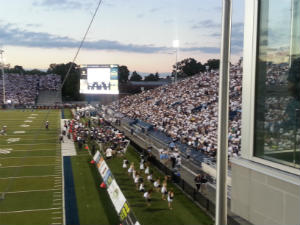 This was more than a blowout, it was a beating. At one point, I thought someone was going to call the cops to arrest ODU for assault and battery. As I mentioned, we were late and had to walk to the stadium. It seemed every block would bring a touchdown update on my son's phone. It went something like this. As we're parking, "hey ODU has already scored." Start walking to the stadium, "ODU just scored again. Hey that Tudor looks pretty nice. Whoops ODU scores again." By the time we got to our seats the score was already 28 – 3. ODU had been on the losing end of FBS road games at ECU and Maryland, and they took the opportunity to celebrate the start of their last FCS team by opening a can of whoop ass on Howard. Actually, it was more like a barrel of whoop ass. By halftime it was 49 – 10. ODU ran a high powered offense and despite the rout, it was still an entertaining track meet. I felt bad for Howard, but having been a college bench warmer myself, I knew not to expect the ODU second and third string to let up.
Personal Notes:
The fact that ODU had just restarted their program in 2009 and was instantly competitive after a 70 plus year layoff amazed me. Perhaps, their start in the FBS will be much rockier. But, if my visit was any indicator, Conference USA members had better be ready buckle their chin straps when visiting the Monarchs.
Official Site