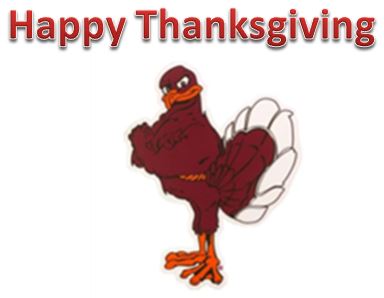 Last week was a pretty good weekend. See my random thoughts below:
PSU played better than I thought they would against Ohio State. I really didn't think A&M would play Georgia that tough either
The SEC cupcake schedule is embarrassing
PAC 10 playoff hopes rest on the Utes after the Ducks choke in the desert. Oklahoma nearly did the same. Hurts is a problem.
Michigan has fully bounced back just in time to set completely unrealistic expectations against Ohio State
Texas is going the wrong way.
Zips close but lose by 3 to a decent Miami team on the road. 0-11 for Akron.
SMU loss takes some luster of off game this weekend against Tulane.
South Alabama loses again, that top of the wall t-shirt status is in severe jeopardy.
Hokies win with second straight shut out. They have really righted the ship.
Speaking of righting the ship, Rice picks up second straight win.
Glad I stayed away from La Tech vs UAB. Dawgs lose a tough one.
Stanford disaster this year and so is Miami. They lost to FIU. Whew…
Missouri continues to under perform. Next up Arkansas in a game no one should have to see.
Wash State vs Oregon State must have been great, 54-53
How about Hawaii clinching the West of the Mountain West.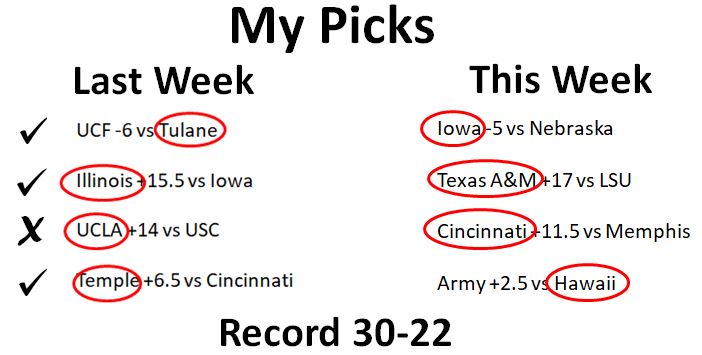 3-1 in picks last week.Illinois loses but covers against Iowa. Temple covers against Cincy, but fourteen points were not enough for the Bruins in their loss to the Trojans. Tulane covers with a late comeback. I thought that game was a loss for sure.
Uh-Oh, It is Rivalry Week. It is one of the worst weeks to bet college football because while you can't exactly throw the records out, you have to at least discount them. I would like to quit while I am ahead. With that sentiment, here are my picks this week. I like Iowa laying five at Nebraska. The Aggies have been playing better so I am hoping they can keep it close against LSU. Likewise, the Bearcats are getting nearly twelve against Memphis in a big game. And finally while I am sure there will be a lot of Army fans at Aloha Stadium, the Rainbows are going to be too much for the Black Knights.
Games I am looking forward to:
Virginia Tech at Virginia. Can the Hokies make it 16 years in a row against the Whoos?
Ohio State at Michigan. I am not saying Harbaugh has to win but I am not sure he will get much more leash in Ann Arbor if they lose to the Buckeyes again.
Wisconsin at Minnesota. Pulling for the Gophers.
Alabama at Auburn. Do us a favor Auburn, and upset Alabama in the Iron Bowl.
That's all I got, enjoy the games.