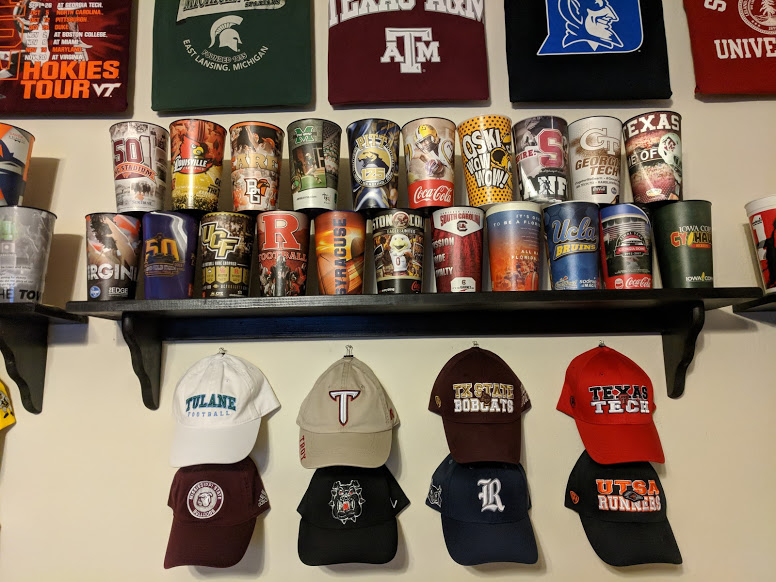 For no marquee games last weekend, there were still some good games. Wake Forest started the week off, upsetting UNC with just a tiny little bit of help from the zebras. I am sure Mack Brown appreciated the apologies from the referees the next day for shorting them one down. Houston almost beat Washington State in an exciting game. The Coogs were at least kind enough to cover and get me a win. Maryland came back to earth with their loss against Temple, so that was loss number one. I thought South Alabama would at least give Memphis a game, but they got waxed. I also thought Iowa State would win outright against Iowa. Their cover did bring me to 2-2 for the weekend. It was not a great week, but at least I am still ahead at 7 – 5.
Other observations on the Week 3:
I think James Franklin and PSU need to get over themselves and keep the Pitt game going. Too much tradition and animosity to let the rivalry end.
Florida State still can't finish.
Some of these targeting calls are terrible. The Florida quarterback was scrambling away from one Kentucky tackler and lowered his head into another Wildcat lineman. And the ref calls the penalty on Kentucky. It turned that game around.
I am sure that if UCF goes undefeated the committee will discount their win against Stanford claiming the PAC10 is having a bad year.
I guess Georgia Tech losing to the Citadel is worse than Va Tech sneaking past Furman, but not by much.
Congrats to the state of Kansas with both K-State and KU winning on the road for the first time in ages.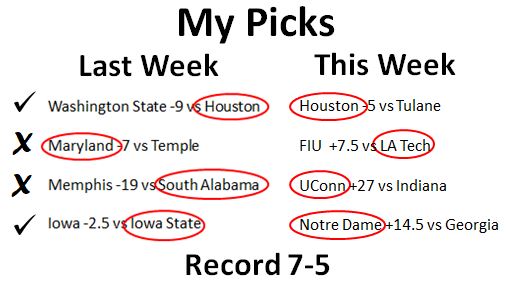 My picks this week are aggressive. I have Houston over Tulane on Thursday night. I don't think Green Wave can contain the Coogs explosive offense. On Friday, I am betting on Louisiana Tech righting the ship at home. I have been burned once by the Dawgs but that was against Texas. FIU doesn't have the same horsepower. I can't believe UConn is getting 27 against Indiana. The Huskies aren't great, but their offense isn't awful either. I have to think they cover. My last game is an emotional hedge. I can see Notre Dame getting completely blown out by Georgia, but a loss by the Fighting Irish should lower the price of ND home tickets for later in the season. Who knows, they may end up giving away tickets for the ND – Va. Tech game.
Other comments for Week 3:
Is it too early to say the PAC 10 needs Utah to beat USC?
Michigan at Wisconsin – that's kind of game to attend at Camp Randall.
I like the Aggies against Auburn, but not enough to bet on them.
South Carolina at Missouri – SEC bottom feeders – Bleh.
But it's no New Mexico State at New Mexico – Double Bleh.
I can't believe it, but I may actually watch South Alabama at UAB on the NFL network
And let's all say a quiet word of thanks for the conference games finally upon us.