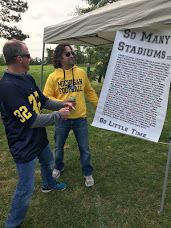 Another week at home for us, in a week that isn't nearly as appealing as the previous one. It will be a chance to catch up on some "honey-do's" and gear up for the second half of the season. Perhaps, I will finally figure out a way to clean the grill when on the road. I love my Honda Element, but the smell of hamburger grease is brutal on the long rides home. Almost as brutal as watching Penn State lose to Ohio State. When I walked out to help out my wife, PSU was cruising. I come back into the Man Cave and they are down by one. I know this. I wouldn't have taken the ball out of McSorely's hands.
Other random thoughts on this past weekend.
Tiger trouble: Clemson survives and advances but they can't feel too good about their current situation. 

TIMBER: Not at all surprised ND smoked Stanford. The Cardinal had been playing on borrowed time.

Wait, it's not basketball season: Kentucky is 5-0!?!

Poopie PA: Rough week for Pennsylvania football. Pitt, PSU, Temple, Steelers and Eagles all lose.

Mountain Mama: WVU is 4 – 0, but getting little to no love in the polls.
Tanking: How do you know your team's season is over? When the SID starts pitching the "Family Four Packs" emails. I got my first one from FSU this week. Start thinking about next year Seminole fans.
And for this weekend:
Alabama visits Arkansas and it could get ugly, really ugly – like the Wal-Mart fall fashion line ugly.
LSU at Florida: The Gators are going to have to prove it to me that they belong in the Top 25.
If I was in Boca, I would definitely drop the $5 to FAU host Old Dominion. It could be a fun game to watch.
Enter Sandman: I don't know if the Hokies can hang with the Irish, but I know Lane Stadium will be rocking Saturday night. Really wish I was going to be there, but I will be in South Band for the rematch in 2019.
Lastly, is there an alum from Stephen F. Austin or Sam Houston on the ESPN website staff? They are definitely not FBS teams.
Lastly the Big House is all that and a bag chips. Check out the review here. It is a good one.