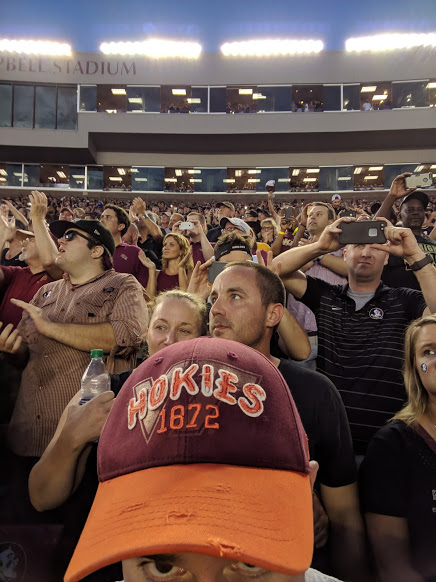 Sixteen hundred. Sixteen hundred miles I logged last week in the process of hitting Boise State at Troy and then Va. Tech at Florida State. We weren't exactly in mid-season form at the tailgate, barely surviving a Florida thunder storm and the drive home reminded me that I need to find some way isolate the grill smell post game. I love the smell of sizzling meet at the tailgate, five hours later, not so much. So indeed, this weekend is all about recovery. My shoulder still hurts from the drive. Florida to Texas is a very long day in the car. The review of Troy should be out this week with Florida State to follow the next week. Some random thoughts and observations from last week.
How did I manage to stop at the one casino in Mississippi that hadn't set up their sports book yet?
I warned PSU about App State. Of course, I also warned Oklahoma about FAU so another reinforcement that Nostradamus I am not.
When those Seminole fans start doing the tomahawk chop, Doak Campbell Stadium gets loud, very loud.
Jim Harbaugh, welcome to the hot seat
It sure seems like Washington outplayed Auburn but instead the loss will only reinforce the assumption that the PAC 12 is the red-headed step child to the SEC.
After seeing both the Troy and FSU bands both perform comic book themed half time shows, I get the feeling I will be seeing the same show multiple times this year. The theme from Ironman anyone?
This week:
With my wife bolting off to PA this weekend, I contemplated hitting the Arizona at Houston game but then I remembered my rule about day games in South in September – which is to just say "NO". TDECU stadium at noon is going to be like sitting in a wok today.
Watching Gameday also makes me think about making the quick trip up to College Station to see the Tigers play the Aggies. And then I remembered that A&M has a new coach and Clemson is loaded. I see a boat race coming and it won't be the home team.
Really not that many great games on the slate this weekend which is good for me. I finally had enough with Directv's lousy service and my wife's bitching about it so I switched to Xfinity. Today's the test to see if it meets the man cave demand of five tv's.
Big screen games this week:

Mississippi State at Kansas State. I think the Powercats of K-States are sneaky good. This should be a good match up.
Georgia at South Carolina. I don't necessarily believe in the Gamecocks, but they seem to own the Bulldogs at home.
Penn State at Pitt. What can I say? This game was the biggest game of the year when I was a kid. It was also the first two FBS stadiums I ever went to. See the trips down memory lane at the Pitt and Penn State reviews.

DVR worthy – recording Rice at Hawaii. Aside from the sweet all black uniforms, the Rainbow Warriors can light it up. Mmmmm, Sunday morning donuts and big offense.
Lastly kudos to SI for a great cover this week. College football is back.