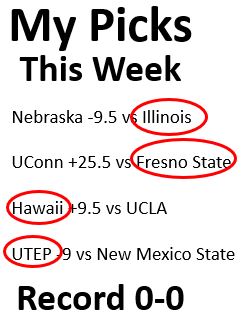 If you follow this site with any regularity, you know that my picks are only slightly better than a coin toss. Betting on college football is hard, particularly in Week 1, or in this case, Week 0. Nonetheless, I am throwing caution to the win (pun intended) and making picks, essentially blind. All picks with the spread included. Don't say I didn't warn you.
Illinois over Nebraska with the points . Picking coaching pedigree here more than anything else. Bret Bielema for the win. It feels like the Frost era is going to end with a whimper and not a bang.
I really Randy Edsell, but the Huskies just can't seem to turn it around. A long trip to Ca isn't going to help. I like Fresno State to cover despite the huge point spread.
Hawaii with the points over UCLA. Two years ago we were in Hawaii watching the Warriors win a heartstopper led by then backup Chevan Cordeiro. He's starting today and I think he can keep it close.
UTEP over New Mexico State. Whew, historically, these are some the worst teams in college football and I plan to see them both this year in their home stadiums. I am taking the Miners to be less bad. A negative negative equals a positive.