I was busy soaking in the sun and watching a surprisingly competitive Illinois versus UConn game (review to be posted soon – well probably next week) so I did not see much of the other games last week. I did catch the end of the Texas game. When LSU has a good offense, they are a scary team. They may actually give Alabama a run for their money this year. Normally, I watch ESPN's College Football Final to get a good summary but Sunday was just too busy. Regrettably, I went to the Steelers Patriots game where once again Tom Brady destroyed my beloved Steelers in Foxboro. With the night game and long drive back to my friend's place in NY combined with long and late travel on Monday, I just never got to the DVR. 
My mostly uninformed comments from last week:
Tough loss for Army.

You could have had ESPN's Game Day this week Syracuse, but then along came Tortuga.

Virginia Tech sorta, kinda bounced back against ODU.

UMass is really bad and so is Tennessee.

I was definitely pulling for Funro (ULM) to upset the Seminoles. So close.
Squeakers: Boise State, Pitt, Michigan, Kent State, Fla State, Minnesota
Ugh: UCLA, Tennessee, Kansas, Washington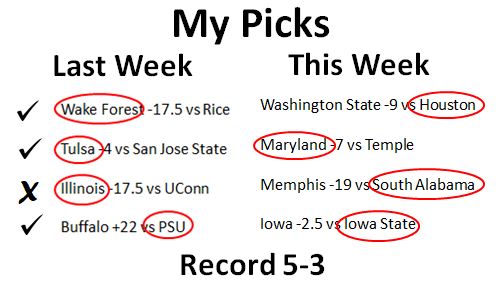 I went 3 -1 last week on my picks. I lost my emotional hedge with Illinois but was rewarded with a good game to watch instead. San Jose State is nothing if not consistent. Wake Forest and PSU rolled as expected and another loss by the SJS Spartans helped me finish the week strong.  
This week we are off. I will be watching from the couch while cursing Comcast for not picking up the ACC. I like Coogs keeping it close against Washington State. I am all in on the Terps until they play Penn State. I liked what I saw of South Alabama against Nebraska plus it will give me a reason to watch them some more before I see them live. I have had a soft spot for Iowa State ever since a great visit to Ames a couple of years ago. I am picking with my heart and not my head on that one. 
Wash St. Vs Houston. I will say this. The Coogs aren't ducking anyone.

I have got to believe that Maryland is going to keep on rolling with Temple.

Does Tennessee finally get off the snide against Chattanooga?

The Pitt game is just the kind of game that PSU finds a way to lose.

Answer games: K-State vs Miss State. UCF vs Stanford, Iowa vs Iowa State.
That's all I've got. Enjoy the weekend.