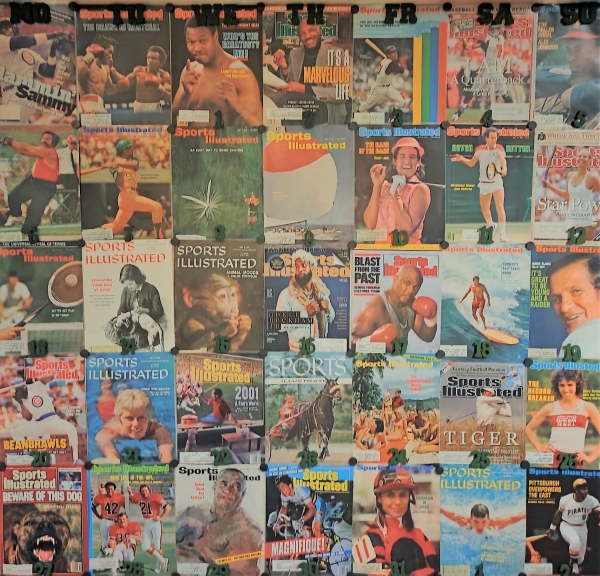 The July Sports Illustrated Wall Calendar is up. With the mainstream sports still sidelined by COVID-19, I thought I'd make the calendar match by pulling out some of the more obscure Sports Illustrated covers from over the years. I have to hand it to the editorial staff at SI. They have certainly had their share of unusual cover stories. In fact, in the early years, it showcased a diversity of topics. There have been articles on beer, climate change, spear fishing and cocaine use in the NFL. Some of the covers don't age as well as others, but at least they have not been afraid to take a risk. Here's a look at some of the more unusual covers from the month of July.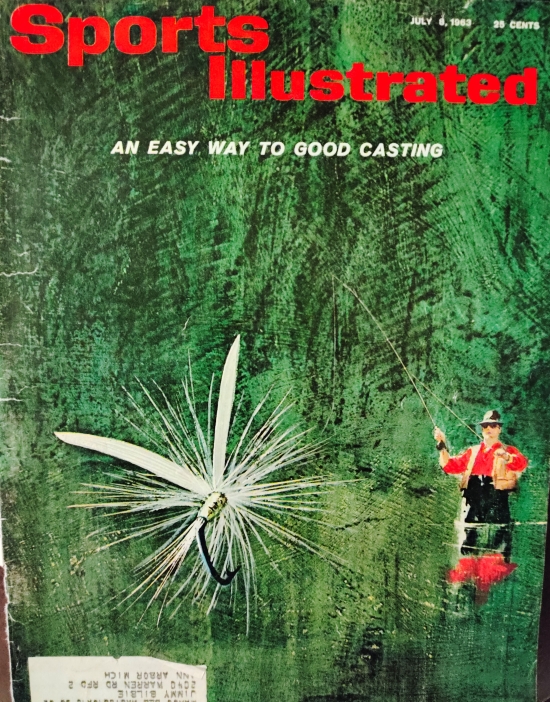 While SI is generally a showcase for great sport photography, they have used artwork from time to time. I am not a fly fisherman, but I did like the simplicity of the cover.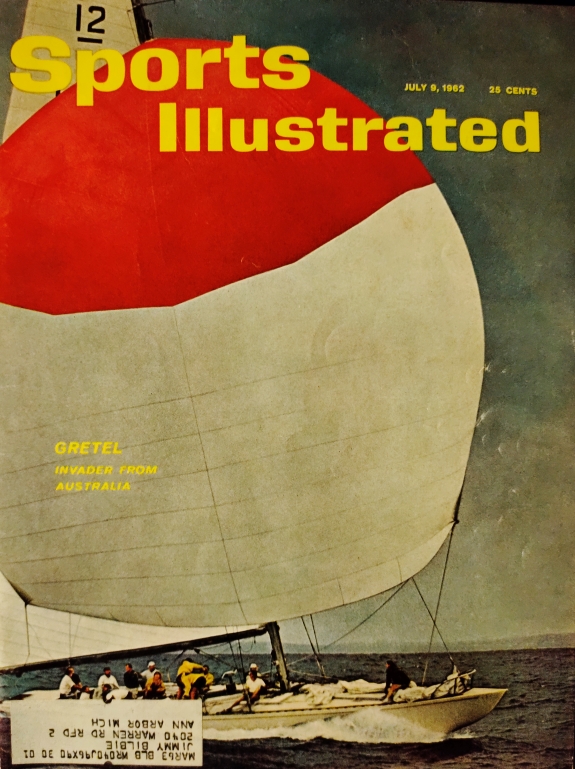 Here is another stark and simple image typical of the early '60s covers. The Americas Cup garnered more than a few covers over the years.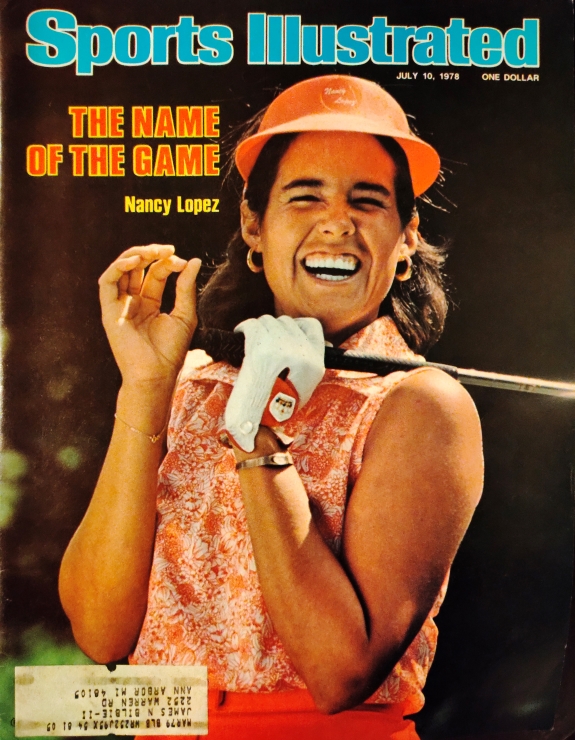 Although not from my original collection, I do seem to remember this cover. Nancy Lopez was pretty big for awhile. I seem to recall a JIF peanut butter commercial. I can't verify that for sure, but she is on the board of directors for Smuckers, Inc. which owns JIF peanut butter. Coincidence? I think not. And oh yeah, Nancy was hell on the links. Three majors and 48 LPGA wins.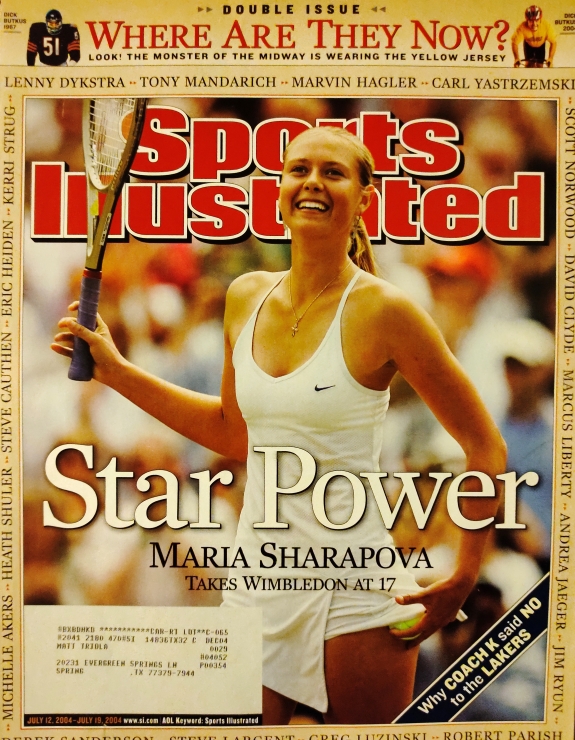 Tennis covers were particularly popular for a long time. There were a bunch in July thanks to Wimbledon. I had the pick of covers. Not surprisingly, the cover with 17 year old Maria Sharapova won over a 17 year old Boris Becker from a few years earlier. Tough luck for the Ginger.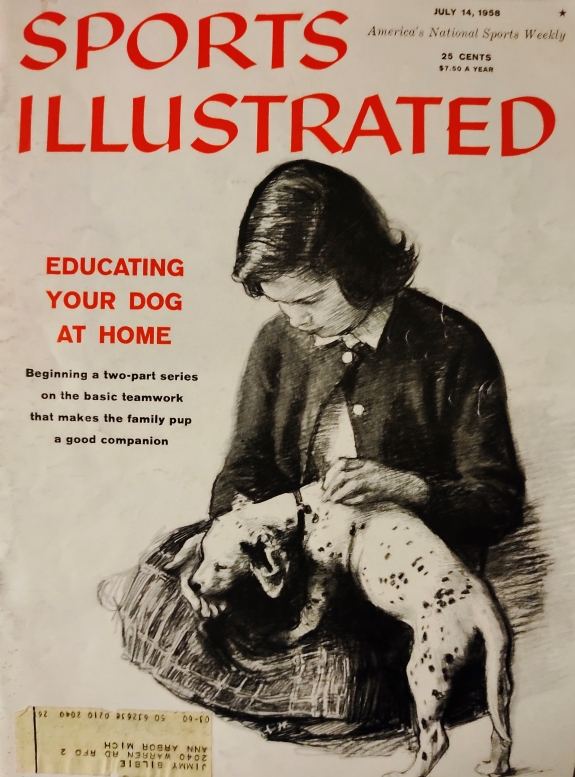 This was actually a two part series. It is definitely one of the more unusual covers.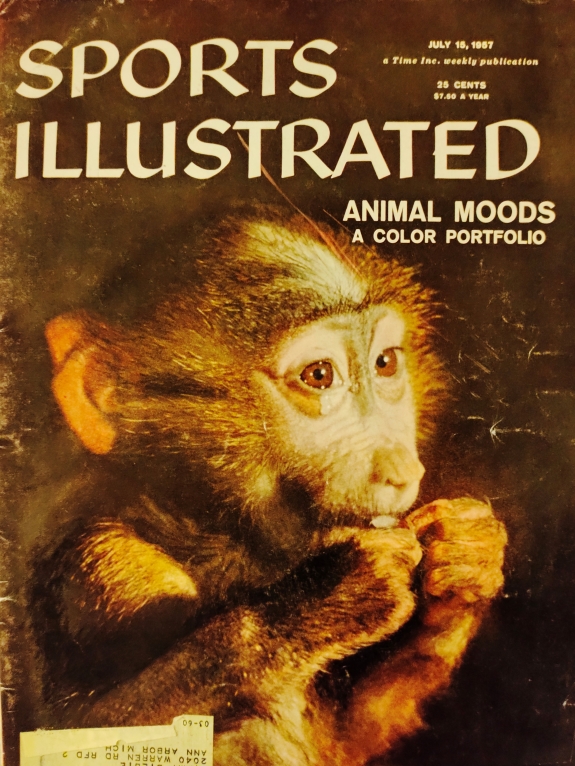 A year early, SI went with the creepy, monkey cover. It was particularly unsettling considering the movie channels seem to have the film "Outbreak" on every other day. It, of course, features a deadly virus carrying monkey. Ah, life imitating art. Awesome.
There aren't many surfing covers and they don't often extol the virtues of east coast surfing. The title was exactly what caught my eye when I picked the cover. Even my wife said, "Wait, East Coast Surfing?!?"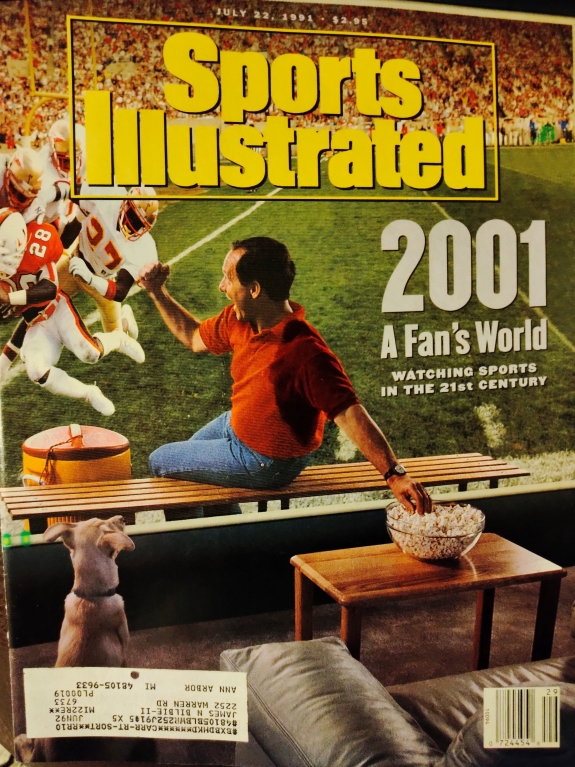 I laughed when I saw this cover mainly because it is about 20 years too early in its projection. It is not the first time SI blew a prediction. I have a pretty impressive man cave with five TVs but the largest is still only 75″. Sure, you could do a whole wall with a projector but why would you given the better quality of flat screens.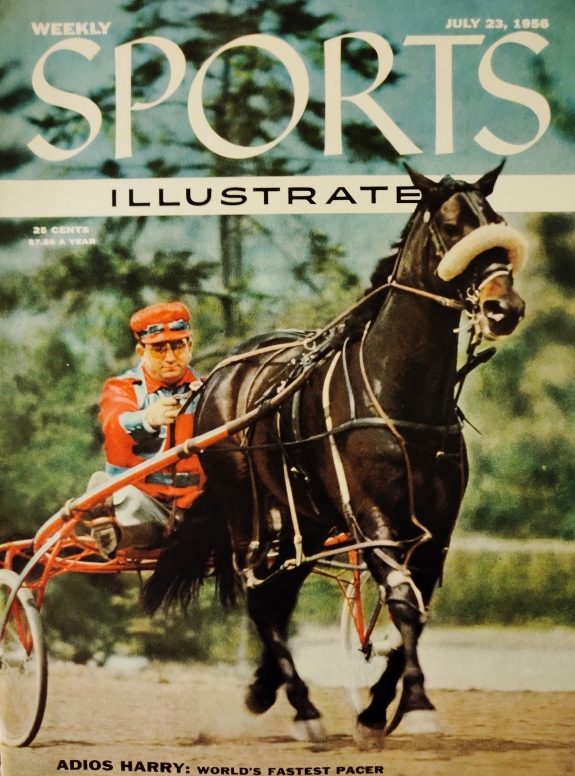 I can't say for sure, but I think this is the only sulky to grace the cover of SI. It is the last time it makes Wall as well.
I love this cover. It feels just so '60s. I can practically hear the Beach Boys playing in the background. I am guessing Annette Funicello and Frankie Avalon can't be too far away.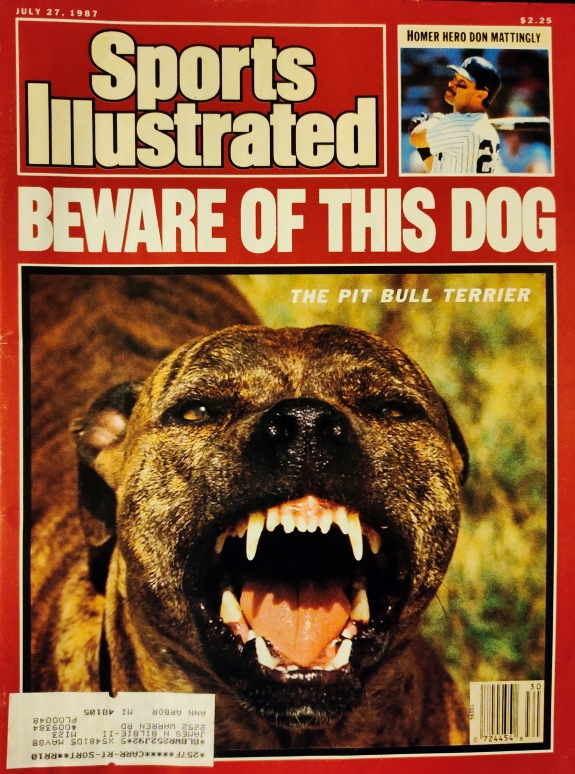 I remember this cover and the associated article well from this issue. Don't blame the breed, blame the owners. SI made up for it later with a heartfelt cover and accompanying piece on the dogs from Michael Vick's Bad Newz kennels.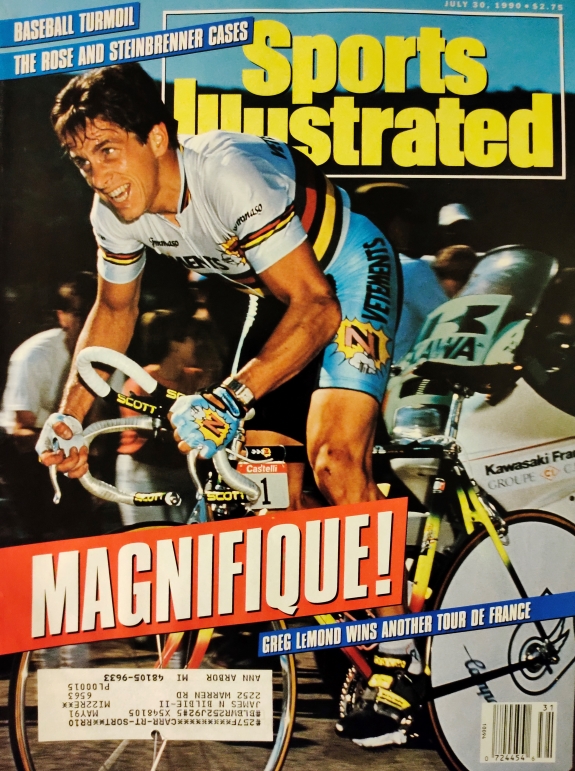 Lance Armstrong is on a bit of a redemption tour, but let's be honest, he still seems to be a jerk. Greg LeMond, on the other hand, is the original U.S. bicycling hero. This cover will probably always be used to contract the multiple Armstrong covers I have.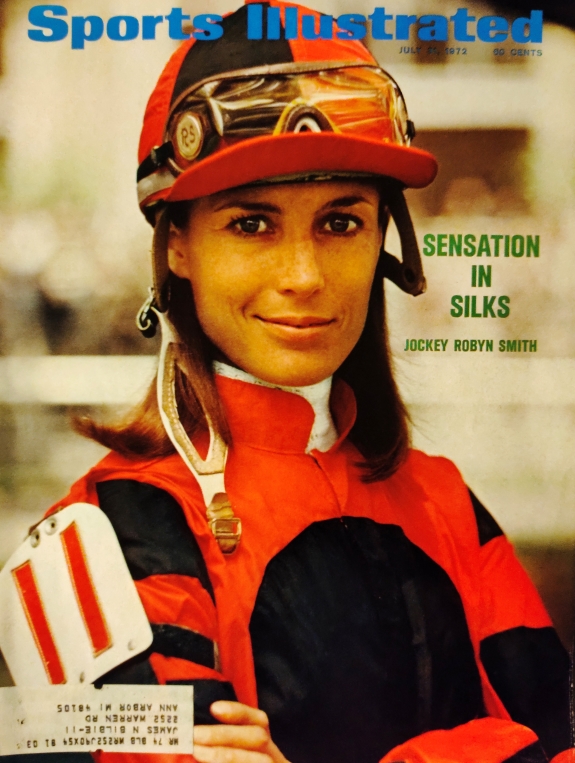 I think there must have been an editor that had a thing for women in jockey silks, because there are a few of these type covers. Robyn Smith herself has an interesting history. According to Encyclopedia.com, she fabricated a story to cover her troubled childhood. However, she rose from those humble beginnings to become the first female jockey to win a stakes race. By the mid '70s, she was running at all the prestigious tracks of the U.S. After retiring, she married Fred Astaire and still resides in their Beverly Hills home today. It is quite the story behind that cover.
Certainly, the earlier covers tend to be much more varied, but the modern times have their moments as well. After all, smack dab in the middle of this month's wall is a recent fashion cover featuring Odell Beckham. Yeah, that's Sports Illustrated for you.