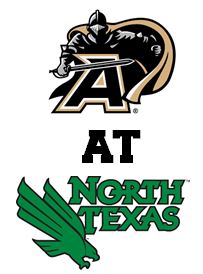 I am a Steeler fan and this week I am going to a very special place for the Pittsburgh Steeler franchise. Joe Greene played his college football at North Texas and he was the cornerstone of the Steel Curtain. Without the drafting of Joe Greene, there would be no six Super Bowls. No Dynasty. No fervent fan base. No Black and Gold as we know it. Joe Greene was so special at North Texas, that they renamed the mascot after him.
North Texas is currently 7 – 3, good for first place in the West of Conference U.S. Coming to Denton are the red hot Black Knights of Army. This game is shaping up to be a dandy. On top of it, the architecture of Apogee Stadium looks to be pretty cool. As long as the traffic through Dallas is reasonable, it should be a good trip.
Of course, after last week's slate of game, I have realized just how lucky you have to be to catch a great game. The early games last week certainly met expectations, even if the teams I wanted to win were mostly losers. I was pulling for Iowa State, Va. Tech and Army. Only Army won, but the other two were part of great games. I was looking forward to the evening games, but Notre Dame and TCU didn't exactly show up. At least Mississippi State gave 'Bama a good game. The other games were so bad, I put a rom-com on the big screen and gave the wife a long overdue foot massage.
This week, the best game may actually be the one in Denton I am attending. There's Michigan at Wisconsin, which with the way the Big 10 is self-destructing, could see the Badgers losing. You're best bet is to keep scanning the scoreboard and grab the hot game on WatchESPN. As for me, I am hoping that North Texas and Army deliver on a cool November night and I catch a little more college football lightening in a bottle.