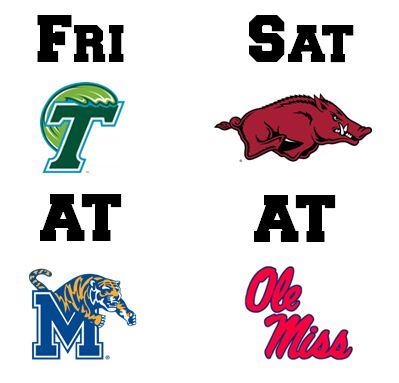 This week is my first double header of the year. Memphis on Friday night with Momo and Ol Miss on Saturday. The downside is that kickoff on Saturday is at 11am. That is particularly galling given that I will be kicking it on Beal Street Friday night after the Memphis game. Damn, those self-driving cars can't come fast enough.
Last weekend's trip to see the Razorbacks was a rip roaring success everywhere but on the scoreboard. We toured the football facilities, fired up the ol' flip cup skills, and made the young women of Fayetteville swoon. Okay, so maybe the last one was all in my head, but we did have a lot of fun and that was despite missing the Walmart Museum tour. You can read our enthralling account here.
So random thoughts on college football weeks past and present.
I guess Notre Dame is for real. If they run the table, it will make for some interesting playoff discussions
We Are Penn State. You certainly are. No doubt that the Lions are back.
The ACC is turning into a really intriguing conference. Va Tech, NC State, Clemson, Miami – it's anybody's trophy right now.
I keep giving Texas the benefit of the doubt, but maybe they don't turn the corner until next year
I love how most of ESPN's analysts are giving the SEC a free pass for two if Georgia beats Alabama in the SEC championship assuming both have only one lost. Enough already, just tell them their playoff starts with the SEC championship. Lose and you are out.
What I like this week:
Just imagine the bedlam in Ames if Iowa State beats TCU. Goalposts anyone? Just kidding. (No really, goalposts).
I wonder how many college kids will be in Halloween costume at the games this weekend? A classic bit.
The Irish fans are thinking playoff after smacking around USC. NC State could end that real quick this weekend.
Dog of the Week: Texas State (1-6) at Coastal Carolina (1-6). A Sunbelt Classic!
While I completely understand putting Gameday at the Horseshoe for Penn State at Ohio State, couldn't they have thrown Iowa State a bone? They are in the top 25 since I don't know when and are hosting number 4 TCU. (Again goalposts)